U.K. Tories Take Poll Lead as Election Enters Final 100 Days
Robert Hutton and Alex Morales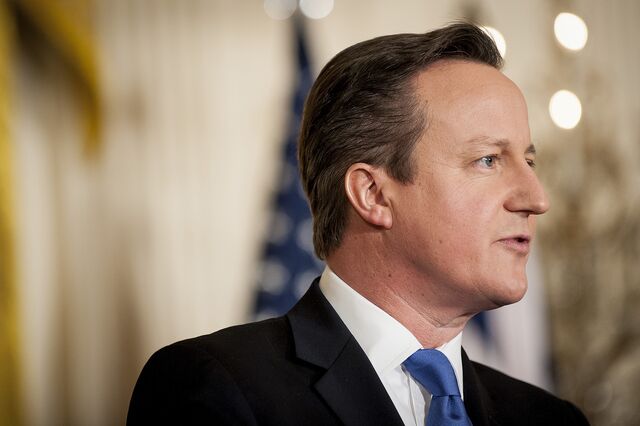 With 100 days until the U.K. general election, Prime Minister David Cameron's Conservatives took the lead in three polls, while opposition leader Ed Miliband returned his campaign focus to the National Health Service.
ComRes Ltd. and Survation both put the Tories at 31 percent support and Labour at 30 percent, and YouGov gave the Conservatives the edge with 34 percent to 33 percent, suggesting the race to the May 7 vote remains on a knife edge. Labour had a lead of as much as 10 points a year ago.
The likeliest outcome of the election remains another hung Parliament, in which no party has an overall majority. If neither big party were able to form a functioning government, that would raise the prospect of a second election within a few months, for the first time since 1974. Adding to the uncertainty that has rattled investors is Cameron's pledge of a referendum on staying in the European Union if he's re-elected.
Both sides played to their strengths on Tuesday, with Cameron continuing his focus on the economy, and Miliband talking about health care, an area where Labour generally enjoys a clear lead over the Tories. That, though, is now threatened, with the ComRes poll finding people saying they trust Cameron as much as Miliband to ensure the NHS has enough funding.
"Without a strong economy, you can't have the strong NHS," Cameron told BBC Radio 2. "I'm not saying the job is done. I'm not saying we've finished our work. But we're on the right track."
Economy Expands
Data published by the Office for National Statistics on Tuesday showed the U.K. economy expanded 0.5 percent in the final three months of last year. That was the eighth straight quarter of growth, but the slowest expansion in a year.
The latest polls indicate that Cameron's current coalition partners, the Liberal Democrats, are unlikely to win enough seats to be able to deliver a majority in a two-party coalition. The ComRes poll for the Independent newspaper put support for the U.K. Independence Party at 17 percent, the Liberal Democrats at 8 percent and the Greens at 7 percent.
While bookmakers say it's increasingly likely there will be two elections this year, there is no longer a straightforward mechanism for calling a vote. The Fixed-Term Parliaments Act of 2011, introduced to ensure the coalition government completed its five-year mandate, requires a two-thirds majority in the House of Commons to call an election, or for the government to lose a no-confidence motion. Either would require the tacit agreement of the opposition.
Electoral System
Britain's district-by-district winner-takes-all election system means that UKIP will struggle to convert its strong poll showing into large numbers of seats. Instead, the biggest electoral effect of UKIP's rise and that of the Greens may be to cost the Tories or Labour victory in other constituencies by taking votes from them.
The growth of UKIP is one of the reasons Cameron is reluctant to take part in television debates. In 2010, the Liberal Democrats benefited from being given equal standing with Labour and the Conservatives in the debates. The prime minister has raised a series of objections to taking part in a format that would allow his rivals to share his platform.
Cameron Caveats
After broadcasters last week agreed to his demand to include the Greens as well as UKIP, Cameron this week questioned why Northern Ireland's parties are excluded from the proposed three-debate schedule.
On Tuesday, he reminded those who want debates of another of his conditions, one he first raised at a lunch with journalists in 2012, that they should take place before the start of the formal election campaign on March 30. "Let's get on with the debates before the campaign begins," he said.
Miliband is aiming to get his lead back by warning voters that Cameron will destroy the NHS.
Fifty-nine percent of those questioned by ComRes said health policy matters to them more than the economy when it comes to deciding who to vote for. Labour's health policies include raising money to spend on the NHS by taxing expensive houses, and limiting levels of sugar, fat and salt in children's foods.
'Wrong Values'
"David Cameron can't be trusted with our NHS," Miliband said in a speech to supporters. "He puts the wrong values at the heart of our NHS and he just won't put the right resources into our NHS. That means you will wait longer and longer for care, forced to go private if you want timely treatment."
Labour has attacked the Tories in particular in recent weeks over lengthy waiting times for treatment in hospital emergency units.
The Survation poll found while almost a third of voters said they might change their mind between now and polling day, Cameron maintains much better personal ratings than his Labour opponent, with 34 percent saying he'd make the best prime minister compared with 18 percent for Miliband.
In the YouGov poll for the Sun newspaper, UKIP had 15 percent support, the Greens 7 percent and the Liberal Democrats 6 percent.
ComRes questioned 1,001 adults by phone Jan. 23-25. The Survation survey interviewed 1,014 adults online on Jan. 25. YouGov questioned 1,656 respondents Jan. 25-26. No margins of error were specified.
Before it's here, it's on the Bloomberg Terminal.
LEARN MORE