Christie PAC Bemoans Loss of Nation in Charge
Terrence Dopp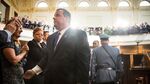 New Jersey Governor Chris Christie took steps toward entering the Republican primary for the 2016 presidential race, forming a political action committee and hiring staff for a campaign.
Christie, a second-term Republican, filed paperwork on Jan. 23 with the Federal Election Commission establishing the Leadership Matters For America PAC, according to Michael DuHaime, a political adviser. The PAC, which created a website listing Christie as honorary chairman, is a multi-candidate organization allowing him to use the money to support other candidates, cover travel costs and form a staff, DuHaime said.
"This committee was formed to support candidates who tackle tough problems and make tough decisions," DuHaime said in an interview. "That's something that's missing at all levels right now."
The PAC allows Christie, 52, to begin raising money immediately to increase his national visibility. DuHaime said Leadership Matters has already hired Matt Mowers, a former Christie staff member in Trenton who recently resigned as Republican chairman in early-voting New Hampshire. Fundraising has already begun, and events are planned in 10 states in February and March, he said.
'Leadership Matters'
Speaking to reporters today in Newark, New Jersey, ahead of a snowstorm that prompted him to declare a state of emergency, Christie called the PAC a "group of people who want to be supportive" of him examining national issues. He said he was honored to be part of it and declined to comment further on the committee.
The governor, who has said he was considering higher office, has been under pressure to announce his plans since former Florida Governor Jeb Bush and 2012 Republican nominee for president Mitt Romney made moves toward entering the race.
Christie's move to set up a fundraising apparatus puts him closer to joining a crowded Republican field of potential candidates. Along with Bush and Romney, those who have expressed interest include U.S. senators Marco Rubio of Florida and Rand Paul of Kentucky, as well as governors Scott Walker of Wisconsin and Rick Perry of Texas.
Donor Attention
A November Bloomberg Politics/Saint Anselm New Hampshire poll showed Romney leading the pack in that state with support from 30 percent of likely Republican voters when he was included. Christie and Paul tied at 16 percent for the lead when Romney was withdrawn from the roster, the survey found.
"He really can't wait any longer because there are all these prominent candidates who are getting into the race," said Julian Zelizer, who teaches history and public affairs at Princeton University. "He's shown he's good at raising money for the party, but the question is whether he can turn those donors his own way when he's the candidate."
Christie barnstormed the U.S. last year for the midterm elections as chairman of the Republican Governors Association. Republican victories bolstered Christie's standing after he helped raise a record $102 million for party hopefuls.
"America has been a nation that has always controlled events and yet today events control us," the PAC said in a mission statement on its website. "Why? Because leadership matters."
Iowa Speech
The statement echoes comments Christie made in his State of the State address to New Jersey lawmakers this month. During that speech, he talked about a nation "beset by anxiety."
Over the weekend, Christie gave a speech to conservative activists at the Iowa Freedom Summit, where he criticized President Barack Obama's leadership and argued that his success in a Democratic-leaning state shows his party's opposition to abortion isn't a detriment.
Christie, the first Republican elected New Jersey governor since 1997, ousted Democrat Jon Corzine in 2009 amid voter discontent with high taxes and the economic crisis. He became a national Republican figure after his spars with labor unions and his calls for smaller government.
In 2011, he turned down pleas from some Republican leaders and corporate executives, including Home Depot Inc. founder Kenneth Langone, to run against Obama. After campaigning for Romney, Christie angered some within his own party when he praised the president and the two embraced on a tarmac after Hurricane Sandy devastated New Jersey's coastline.
Bridge Jam
When Christie ran for re-election in November 2013, he touted his ability to work with Democrats who control the legislature, and said it was a lesson for Washington. He beat his Democratic challenger, state Senator Barbara Buono, by 22 percentage points.
Two months later, Christie's popularity began to slide after e-mails revealed that an aide and an ally arranged traffic jams in September 2013 at the George Washington Bridge in Fort Lee, where the Democratic mayor didn't endorse the governor for re-election. Federal and state investigations are ongoing.
Christie has tried to move past the bridge affair with public appearances, including stumping across the country for Republican candidates and traveling to Mexico and Canada for trade missions. Back home, he has struggled with New Jersey's budget as revenue falls short of projections and pension, benefit and debt costs eat up more annual spending.
New Jersey's lagging economic growth and swelling pension obligations have contributed to eight credit-rating downgrades under Christie, a record for a chief executive of the state.
Debbie Wasserman Schultz, chairwoman of the Democratic National Committee, told reporters ahead of his speech in Iowa that Christie is "not ready for prime-time."
"This is a person who doesn't have his priorities straight," she said.