Cartier Just Made Its Most Complicated Watch Ever, and It Is Gorgeous
This $620,000 megawatch bodes well for the maison's future
By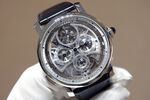 This is about as far from a two-handed Tank watch as you can get. Cartier's fine watchmaking department has been making consistent strides every year, adding more technical developments to the maison's arsenal. This year is no exception. The Rotonde de Cartier Grande Complication Skeleton is the most complicated watch Cartier has ever produced. 
The Rotonde de Cartier Grande Complication contains a perpetual calendar, minute repeater, and flying tourbillon, all in a highly skeletonized movement. All the complications are clearly laid out and visible, with the tourbillon at 12 o'clock, the minute repeater's hammers at six o'clock, and the perpetual calendar indications floating above the movement components on round dials. Cartier has produced some serious watches over the last few years, but this is the most complex so far. Take it all in:

From the front, the movement components peek through the sparse dial, which is a trio of round segments for the calendar and two large horn shapes to support them and frame the tourbillon. It's striking and clearly meant to impress. Legibility is always compromised with skeletonzied watches, and the Grande Complication is tough to read unless you get the lighting just right. The blued hands help, but you still get lost sometimes.

There's a sense of anticipation when you turn the watch over, but the movement looks a little dense and cluttered from the rear. There are so many components in so little space that even though each piece is finished nicely, the overall effect is muddled. If you don't look closely, you might even miss the micro-rotor winding system toward the top right. 
Cartier calls the watch "ultra-thin," a vague description often thrown out as if it's a qualification that can be achieved if a watch meets specific criteria. It's not. Any company can call any watch ultra-thin.  That said, the caliber 9406 MC movement is only 5.94mm thick with 578 components, and the 45mm platinum case is 12.6mm thick. Making it thinner would have disrupted the signature proportions of the Rotonde de Cartier case and bezel. As far as I'm concerned, this watch qualifies as ultra-thin with room to spare.

Since 2005, Carole Forestier-Kasapi has been director of movement creation at Cartier, where she's done everything from developing basic movements in-house for Cartier's entry level products to engineering watches like this. And she's done it all as a French woman in a climate that tends to frown upon anyone who's neither Swiss nor male. 
What Forestier-Kasapi and her team have achieved by creating watches like this shows they're not content to rest on a storied heritage of watchmaking. (Although Cartier is more often thought of as a jewelry brand, it loves to promote the fact that it's been making watches for more than a century.)

A great history is meaningless if you don't keep pushing forward with the same level of dedication and pride. If you take your foot off the gas, or make advancements that don't bring value to your customers, you're wasting everyone's time. The prowess displayed in watches like this trickles all the way down to Cartier's most basic mechanical watches, so you don't have to spend half a million dollars to benefit from the company's advances. And those who do want to invest in something like the Grande Complication Skeleton will help to keep watchmaking interesting for another century by keeping Cartier on its toes. 
The Rotonde de Cartier Grande Complication Skeleton is limited to 50 numbered pieces, priced at $620,000 each.
Before it's here, it's on the Bloomberg Terminal.
LEARN MORE