AT&T to Buy Nextel Mexico's Wireless Assets for $1.9 Billion
Scott Moritz and Patricia Laya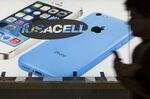 AT&T Inc., the second-largest U.S. mobile-phone carrier, agreed to buy NII Holdings Inc.'s Mexican wireless assets for $1.875 billion in its third deal to expand south of the U.S. border.
The acquisition includes companies that operate under the name Nextel Mexico, spectrum licenses, network assets, retail stores and about 3 million customers, Dallas-based AT&T said in a statement Monday. The purchase price doesn't include an unspecified amount of debt from NII, which filed for bankruptcy in September.
Nextel Mexico's high-paying monthly subscribers will help AT&T accelerate a plan to offer its first cross-border service in the U.S. and Mexico. AT&T's pending takeover of DirecTV, which has operations in Mexico, marked the company's first push outside the U.S. in more than a decade as growth slows at home. The company has since added to that expansion with the $2.5 billion acquisition of Grupo Iusacell SA in Mexico, which closed earlier this month.
The deal strengthens AT&T's efforts in Mexico by adding Nextel's "more highly-valued postpaid customers and some additional infrastructure," Walt Piecyk, an analyst at BTIG LLC, said in a phone interview from New York. "Nextel's spectrum bolsters what Iusacell has to offer: wireless data services, the key element of AT&T's growth strategy."
Nextel Mexico's network covers about 76 million people. AT&T said it plans to combine Nextel Mexico with Iusacell, which will help improve service for people living outside major metropolitan areas. The deal is expected to close in the middle of this year, AT&T and NII said.
America Movil
"The acquisition of Nextel Mexico will support AT&T's plans to bring greater competition and faster mobile Internet speeds to the Mexican wireless market," AT&T said in the statement.
This is AT&T's third deal that hasn't involved Mexico's largest wireless-service provider, America Movil SAB. Carlos Slim's company has been looking to sell a large portion of its business to comply with new laws that penalize it for being a dominant phone company.
AT&T shares fell 0.7 percent to $33.13 at 9:38 a.m. New York time. America Movil dropped 2.1 percent to 16.89 pesos in Mexico City.
AT&T has been on the prowl specifically for deals in Latin America and Mexico. In September, Chief Strategy Officer John Stankey said that Mexico was poised for investment and that he sees a lot of options in Latin America.
NII, which has been in bankruptcy protection, said it will use the proceeds of the Nextel Mexico sale to help emerge from Chapter 11 and fund its Brazilian unit. The deal requires approval from the U.S. Bankruptcy Court.
"The sale of Nextel Mexico represents an opportunity to reduce our operational risk, deliver value to our stakeholders and provide the liquidity that will position us to emerge from Chapter 11 reorganization," NII Chief Executive Officer Steve Shindler said in a statement.
Before it's here, it's on the Bloomberg Terminal.
LEARN MORE