When Churchill Addressed Congress
The former prime minister, who died 50 years ago, addressed Congress three times—a record Israel's Benjamin Netanyahu is approaching.
By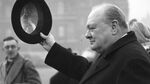 The first speech literally gave him a heart attack.
On Dec. 26, 1941, less than three weeks after the U.S. had joined World War II, U.K. Prime Minister Winston Churchill addressed a joint session of Congress. The famous orator's speech was fierce and optimistic, but according to the Library of Congress, "the strain was taking its toll, and that very evening Churchill suffered a mild heart attack."
Churchill, who died 50 years ago on Saturday, addressed Congress three times, more than any other foreign leader to date. Come March, after accepting House Speaker John Boehner's controversial invitation, Israeli Prime Minister Benjamin Netanyahu will match Churchill's record.
Unlike Netanyahu's trip, which comes amid high-profile differences with White House, Churchill's voyage to the U.S. seems to have stirred warm diplomatic relations.

Having arrived on Dec. 22 and spent Christmas at the White House, Churchill began the speech by wishing that his mother, who was American, could have seen him speak and praised "the Gettysburg ideal of 'government of the people by the people for the people.'" He specifically noted that he believed the House of Commons would "approve very highly of my journey here, for which I obtained the King's permission in order to meet the President of the United States," according to a transcript of the speech from the Churchill Centre.
Churchill went on to lay out some of the challenges the two nations would face in the coming war.
"When Churchill concluded his 30-minute address, he flashed a 'V' for victory sign and departed to thunderous applause," according to the Senate Historical Office.
It would have been no surprise. He was speaking to allies who had been driven to new heights of commitment by the Dec. 7 attack on Pearl Harbor. Netanyahu, too, will meet allies in Congress, where Republicans and some Democrats are committed to sanctioning Iran—a move the White House warns could derail nuclear negotiations.
Netanyahu is not without political tensions in Washington or at home, however. He has called the administration's previous diplomacy with Iran a "historic mistake." President Barack Obama does not plan to meet with Netanyahu, the White House said, citing the proximity of Israeli elections to the trip. Opposition parties in Israel have criticized Netanyahu's decision to accept an invitation from Boehner that was not coordinated with the White House.
By the time Churchill gave his third and final speech to Congress in 1952, he was in a position not unlike Netanyahu's today.
"U.S. and British interests were then in less-than-perfect alignment," Politico wrote for the 60th anniversary of the speech in 2012. "After Iran nationalized the Anglo-Iranian Oil Co., the British focused on the need to coerce Tehran to pay full compensation. But Washington saw Cold War risks in overly pressuring Iran."