The Japanese Government Is Trying To Figure Out How To Get Its People To Have More Sex
What is the cause of its libido crisis?
By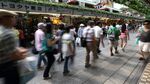 Mike Huckabee thinks, inspired by the president's daughters' love of Beyonce, that America is in the midst of a values crisis. But in Japan, the worry is about a libido crisis. The birthrate is falling fast. By 2060, the population is expected to go down by a third, and, by 2100, if trends continue, by 61 percent. In 2011, sales of adult diapers in Japan exceeded those of baby diapers. It's an urgent national problem: there isn't enough procreation.