Harper Aims at Canada Taxes and Terror in Pre-Election Bills
Greg Quinn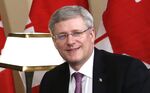 Canadian Prime Minister Stephen Harper will focus on tax cuts and anti-terror laws as Parliament opens today, sticking with themes that's kept his Conservative Party in power for almost a decade.
The government will present a balanced budget even as lower oil prices reduce "flexibility" in the short term, Harper said in a speech in Ottawa yesterday as his party gears up for an election due in October. He also highlighted proposed legislation that would restrict suspected terrorists who travel abroad at a time when "jihadism" is a direct threat to Canada.
Harper is seeking to become the first federal party leader in Canada in more than a century to win four straight elections. This time he faces one of his toughest challengers in Liberal Leader Justin Trudeau, who has led Harper in some recent polls. Harper rebutted Trudeau's challenge that middle-class voters are struggling even in Canada, the first Group of Seven economy to emerge from the 2008 financial crisis.
"We are focused on the issues that matter to them," Harper said of the electorate. "Economic and financial security, creating and protecting jobs, lower taxes for families, and keeping Canada and Canadians safe in a dangerous and uncertain world."
Forecast Cut
After his speech, Harper headed to Alberta to attend a funeral today for a slain police officer.
Canada, the biggest crude oil exporter in the G-7, faces challenges in the energy industry and with youth job creation, Harper said today. Last week the central bank made a surprise interest-rate cut, saying oil prices would curb business investment and household incomes.
Toronto-Dominion Bank, the country's biggest lender, cut its 2015 economic growth forecast to 2 percent from 2.3 percent today, saying oil-rich Alberta will lag with an expansion of 0.5 percent. Only the much smaller oil-producing province of Newfoundland will do worse, with its gross domestic product shrinking by 1.2 percent.
Harper said tax cuts his government is proposing, which include benefits of more than C$700 ($560) per child each year, will help middle-class families. He contrasted with the plans of rival parties, which he said would "raise taxes back up for Canadian families."
'More Money'
"If you want to fight for the middle class, you do it by putting more of their money back in their pockets," Harper said. "You don't do it by taking that money away."
Canada's opposition New Democratic Party said its first major action in Parliament will be a motion asking the government to present an economic update and prepare a budget, something Finance Minister Joe Oliver said will be delayed until at least April after the new fiscal year begins.
"The Conservatives' reckless economic mismanagement has cut our recovery off at the knees and left far too many Canadians facing a weak job market and long-term unemployment," NDP finance critic Nathan Cullen said in a statement today.
On new anti-terrorism laws, Harper said that "violent jihadism is not simply a danger somewhere else. It seeks to harm us here." Harper said the new legislation will be introduced on Friday.
He mentioned last year's attacks on a soldier in Quebec and shootings at Parliament in Ottawa as examples of that kind of violence, and said the new legislation would give police new tools and "prevent terrorists from traveling and recruiting others." He didn't elaborate.
Before it's here, it's on the Bloomberg Terminal.
LEARN MORE