politics
Chris Christie Touts Conservative Bona Fides in Iowa Speech
Being an abortion opponent shouldn't stop a Republican from being elected, he says.
By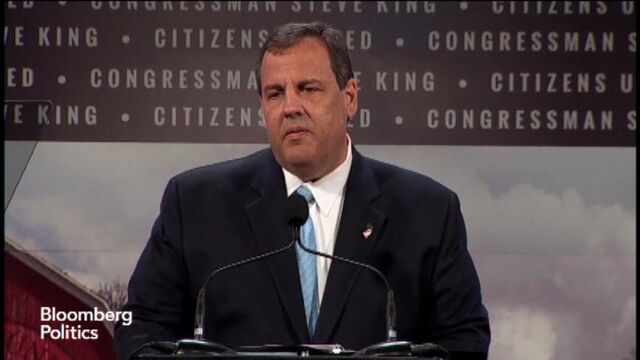 DES MOINES, Iowa—Chris Christie did his best Saturday to burnish his social-conservative street credentials to a packed house in Iowa, arguing his success in a blue state shows the party's opposition to abortion isn't a detriment.
Christie, 52, is a Republican governor elected twice in a state where Democrats hold a 700,000-vote registration edge and his party hasn't won a U.S. Senate race in more than four decades. "Political consultants told me that there was no way I could be elected governor of New Jersey as a pro-life Republican because it had never been done before. They were wrong," Christie said during a speech to conservative activists at the Iowa Freedom Summit. "I can assure you being pro-life is not a political liability.''
While he offered his thoughts on what a Republican needs to do to get elected—be plain spoken and honest and build a broad coalition across class and ethnic groups—he never said he was officially in the race. Christie has said he spoke to his family about a potential run over the holidays and an announcement is anticipated soon. The New York Times reported he may set up a fundraising apparatus by the end of this month.
Christie beat up President Barack Obama as showing a lack of leadership, again pitched his case for a second American Century, and said his party needs to avoid a reliance on any single issue.
"If you want a candidate who agrees with you 100 percent of the time, I'll give you one suggestion: Go home and look in that mirror. You are the only person you agree with 100 percent of the time,'' Christie said.
"If that's the standard we hold each other to as a party we will never win another national election. Ever," Christie said. "I can tell you that you'll always know who I am. You'll always know what I believe and you'll always know where I stand."
Christie was one of the few speakers Saturday from outside the party's social-conservative wing. Two other moderates considering the race, former Florida Governor Jeb Bush and 2012 GOP nominee Mitt Romney, didn't attend.
Christie ticked off a list of trips he made in the past year as chairman of the Republican Governors Association: 37 states and more than 106,000 miles flown, a trek that helped Republicans pick up several gubernatorial seats in the midterm elections. He pointed to at least seven visits to Iowa, home to the first presidential nominating contests, a little more than a year away.
Acknowledging the critics who say his brash New Jersey style doesn't play in Iowa and the heartland, he quipped he keeps getting invited back to the state.
Michael DuHaime, a Christie strategist, said Christie had agreed to speak at the summit months ago at the request of Representative Steve King, the summit organizer. "It's just an opportunity to meet, greet, and talk to a number of leaders and activists in the state,'' DuHaime said. Asked whether he expected to score political points at the gathering, DuHaime said, "I'll let the pundits weigh in on that.''    
Following the speech, Christie was given a lengthy standing ovation. At one point in his speech, as immigration activists shouted from the balcony, he spoke louder.
Addressing reporters before the packed day of speeches, Democratic National Committee Chairwoman Debbie Wasserman Schultz criticized Christie for giving business subsidies to lure and keep business, saying billions in incentives failed to spark jobs. She said the "Jersey comeback" Christie has spoken of doesn't exist.
There's also a scandal about a bridge and political payback involving some allies, still being investigated by federal authorities and the Democratic-controlled state legislature. 
"This is someone who has given $4 billion in tax giveaways to the wealthiest, most fortunate folks in New Jersey while being mired in scandal and having an economic situation in New Jersey that's near the bottom when it comes to helping folks reach the middle class," she said.
Before it's here, it's on the Bloomberg Terminal.
LEARN MORE