Why Greece's Alexis Tsipras Might Not Want to Win Big
There's one huge question remaining before Greece's big vote
By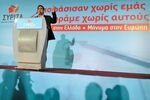 Greece is about to go to the polls to elect a new government, and virtually everybody expects the left-wing Syriza party to be victorious.
Anything is possible, but to most people watching the election, the only real question left is whether Syriza will win an outright majority of the seats in parliament, or whether it will need to form a coalition government with a smaller party. Greek parliamentary math is a bit tricky, but put simply, Syriza doesn't need a majority of the votes to get a majority of the seats, because whichever party comes in first place automatically gets 50 additional seats in the 300-member Hellenic Parliament.
Now you might think that Syriza, led by the young and charismatic Alexis Tsipras, would like a huge victory and a strong mandate to renegotiate the terms of Greece's bailout. But a number of people I've spoken with in Athens explain that might not be the case. 
Tsipras has staked out a strong position against the existing bailout scheme (he's not as radical sounding as he was in 2012, but he still represents a major change). Nobody knows how negotiations would go among Tsipras and the rest of Europe (primarily Germany). The presumption is that some deal can be worked out—almost nobody here thinks Greece will end up leaving the euro zone. 
If Tsipras is forced to form a coalition government, that immediately provides the pretext to walk back some of the election rhetoric and reach an easier compromise with Germany. After all, a coalition would need to have a broader view than just Syriza. As the Greek journalist Efthimia Efthimiou put it on Twitter, having a coalition partner would give Tsipras "the proper alibi" to make concessions.
Again, people expect that somehow, regardless of what happens, Greece will reach an agreement with its creditors and avoid disaster. If the next government is a coalition, those talks might end up a bit easier.