When Obama Meets Modi: A Search For Common Ground
Their similar experiences may have opened a door to a personal relationship, but an upcoming summit will focus on what each country needs from the other.
By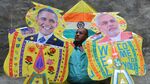 It started with a phone call last May. On the line from Washington, D.C., was President Barack Obama calling to congratulate Narendra Modi, who had just won a landslide victory that would make him India's prime minister.