SkyMall Is Earthbound, but Its Legacy of Nutty Gifts Lives On
Lightheaded shopping at 30,000 feet
By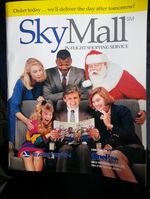 How did they know you needed a $25 Mounted Squirrel Head while hurtling toward Antigua at 600 miles an hour?
And a $500 Volkswagen Camper Tent to go with it.
In the end, it was a shaky bet for SkyMall, especially as consumers passed over the in-flight catalog of absurd gadgets and gimmicky home goods for online retailers and the fun to be found on tablets or phones. The Federal Aviation Administration loosened the rules on using devices during take-offs and landings, and now SkyMall has filed for bankruptcy protection.  
Founded in 1990, SkyMall succeeded by peddling weird wares to a captive audience of bored airline passengers with money to burn as they browsed the seat pockets for anything to pass the time. The company sold itself as a purveyor of  "unique merchandise" and never had to defend that claim against vigorous dispute. Around 650 million people a year viewed the catalog, according to SkyMall's website.
Alan Lobock, a co-founder of SkyMall, says he never expected the catalog to develop its reputation as a source of zany gifts, though he's pleased with the brand's legacy. The original intention was to get customers to order within 20 minutes of landing and have the goods waiting for them on arrival. SkyMall later switched to home delivery.
"We tried to pick items that were likely to appeal to a traveler, whether that'd be gifts to their children or things they could use on vacation," says Lobock. "It was never intended for shock value."
Since 1999, SkyMall ownership has bounced around among several private-equity firms, and new management teams turned it into what it is today. Now it offers everything. No, we mean everything, including a boat that looks like a shark. (Guess the price, or look below.)
A representative of SkyMall didn't respond to a request for comment. The bankruptcy filings expressed hope that the brand and catalog will find a new owner.
Even if the catalog doesn't survive, there's still time to check out what SkyMall has to offer: 
Italian Replica Globe Bar $189


Pierogi Ornament $9.95

Circulation Improving Leg Wraps $199.95 

Ninja Turtles Pajamas $39.99

Zombie of Montclaire Moors $99.95

Volkswagen Camper Tent $499.00 

HoodiePillow Pillowcase $24.99

Mounted Squirrel Head $24.95 

Wine Bottle Glass $19.95

Seabreacher Customized Boat $85,000  

Before it's here, it's on the Bloomberg Terminal.
LEARN MORE