Saudi King's Death Brings Visits by Obama, Cameron, Erdogan
Gregory Viscusi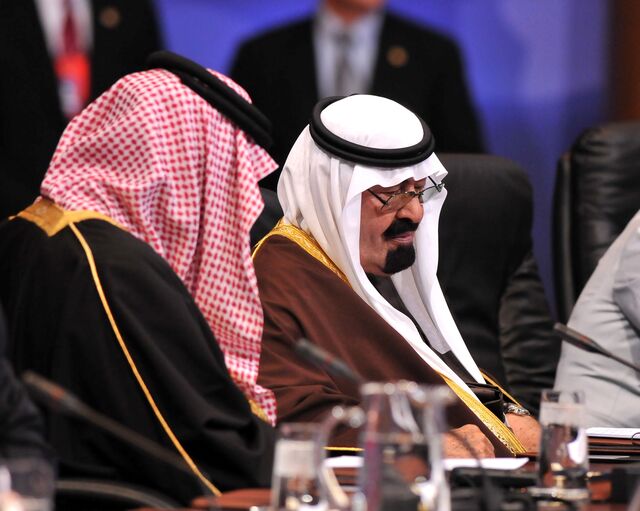 The death of King Abdullah, a close U.S. ally who used Saudi oil wealth to ward off political change after the Arab Spring, prompted world leaders including U.S. President Barack Obama to make condolence visits.
Obama canceled a trip to India's Taj Mahal to add a visit to Saudi Arabia on Jan. 27. The president called the new Saudi monarch, King Salman Bin Abdulaziz Al Saud, from Air Force Once while en route to India to express sympathies on the death, according to a statement from the White House.
French President Francois Hollande, King Felipe VI of Spain and Egypt's President Abdel-Fattah El-Sisi arrived in Riyadh to offer condolences, the official Saudi Press Agency said. The U.K.'s Prince Charles and Prime Minister David Cameron also travelled to Riyadh to pay respects to the House of Saud, an ally and commercial partner.
Amid the paeans, human rights groups highlighted a record of abuses that improved only marginally under the late king, who was succeeded by his 79-year-old half-brother who had been crown prince.
Since Saudi Arabia is the home of Islam's birthplace, and its ruler the custodian of Mecca, even regional countries at odds with the kingdom are sending high-level delegations. Iran, Saudi Arabia's main Middle Eastern rival, dispatched its foreign minister. Turkish President Recep Tayyip Erdogan, who fell out with the Saudis over the turmoil in Egypt, interrupted a visit to Ethiopia to fly to Riyadh for the funeral.
Global leaders in dark-colored suits, military officials in uniforms and regional dignitaries in traditional Arabic robes and checkered head scarves met Saudi royals, including King Salman, for the observance at the Yamama Palace, according to live broadcasts on Saudi State Television. In accordance with religious tradition, Abdullah was quickly and quietly buried on Friday following his death early the same day.
Agency Statement
King Abdullah "served his religion, homeland, Arab and Islamic issues" and supported "stability and security in the world," Deputy Crown Prince Mohammed bin Nayef said in a statement on the website of the official Saudi Press Agency. Nayef, who is also interior minister, was named second-in-line to the throne after the death of Abdullah.
While the decades-old U.S. alliance with Saudi Arabia remained strong during Abdullah's reign, strains surfaced as the countries disagreed over the war in Syria and talks with Iran.
Obama's decision to hold back from military action against the Syrian government in 2013 and his engagement in talks with Iran have been unpopular among Saudi leaders. Differences receded as the two countries joined forces to formulate a plan for defeating Islamic State. The U.S. has underwritten the security of Saudi Arabia in an alliance that dates to the 1940s.
'Critical Force'
"King Abdullah's life spanned from before the birth of modern Saudi Arabia through its emergence as a critical force within the global economy and a leader among Arab and Islamic nations," Obama said in a statement. "King Abdullah's vision was dedicated to the education of his people and to greater engagement with the world."
Beyond its role as an ally in key Middle East conflicts, Saudi Arabia has also been a major arms buyer from U.S. and European companies. Criticism of the kingdom's human rights record in those countries has been muted.
Since coming to office in 2010, Cameron's U.K. government has licensed 3.8 billion pounds ($5.7 billion) of arms sales to Saudi Arabia, making it the top destination for British weapons, according to the London-based Campaign Against Arms Trade. The kingdom bought 1.9 billion euros ($2.1 billion) of French weapons in 2013, and was the biggest market that year for French arms exports, according to an annual report to parliament.
'Fundamental Rights'
As leaders praised Abdullah's reign, Human Rights Watch said in a report that though there have been "marginal" advances for women's rights, he "failed to secure the fundamental rights of Saudi citizens to free expression, association, and assembly."
Hollande was asked by French reporters in Davos, Switzerland, whether he'd use his visit to raise the issue of Raif Badawi, a Saudi blogger condemned to 1,000 lashes after being found guilty of insulting Islam. The French president avoided the question, answering that he wants to "reinforce our relationship of confidence" with Saudi Arabia, which he called an "important partner in the fight against terrorism."
Flags at Westminster Abbey in London were at half-staff Friday. "I am deeply saddened to hear of the death of the Custodian of the Two Holy Mosques, His Majesty King Abdullah bin Abd Al Aziz Al Saud," Cameron said in a statement. "He will be remembered for his long years of service to the Kingdom, for his commitment to peace and for strengthening understanding between faiths."
Mourning Decreed
Bahrain and Jordan decreed 40 days of mourning. In Bahrain, flags will be at half-mast for 40 days and government offices closed for three days. Egypt declared a week of mourning and news anchors on state television stations wore black.
Saudi Arabia sent troops to Bahrain in March 2011 to help its Sunni rulers crush protests by the majority Shiite Muslims. In July 2013, Saudi Arabia pledged $5 billion in cash and petroleum products to Egypt after the army ousted an elected Muslim Brotherhood government. The Brotherhood's brand of political Islam, which seeks to gain power via the ballot box, has been consistently opposed by the Saudis.
Morocco, where several members of the Saudi royal family have vacation homes, has decreed three days of mourning. Saudi Arabia and neighboring Gulf countries pledged $5 billion to the North African country to help the ruling family there tame 2011 pro-democracy demonstrations.
'Brave Ruler'
Morocco's King Mohammed VI, in a letter of condolence carried by state news agency MAP, mourned the loss "not only for Saudi Arabia, but also for Morocco and the whole Muslim nation of a brave ruler who stood for just causes."
King Abdullah, who was born in 1924, was on Friday carried into a mosque by family members wrapped in a plain shroud before his burial in an unmarked grave in Riyadh.
Abdullah became Saudi Arabia's sixth king in 2005 and was de facto ruler for almost a decade before that, as his predecessor was incapacitated by a stroke. His policies helped Saudi Arabia remain mostly unscathed by the Arab Spring. He allocated $130 billion in social spending in February and March of 2011 as popular uprisings spread across Tunisia, Egypt and other regional countries, toppling longtime leaders.
In Syria, the protests evolved into a sectarian civil war that's also a proxy confrontation between Saudi Arabia, the Gulf's leading Sunni power, and Shiite-ruled Iran. The two countries have clashed over oil policy as well as Syria, and Saudi Arabia accuses Iran of stirring up Shiite populations in Gulf countries, while Iran blames the Saudis for funding Sunni radicals.
Iran's President Hassan Rouhani and one of his predecessors, Ali Akbar Hashemi Rafsanjani, expressed condolences and Foreign Minister Mohammad Javad Zarif will travel to Riyadh.
Before it's here, it's on the Bloomberg Terminal.
LEARN MORE