Sarah Palin Says 'Yes We Can' Beat Hillary
Despite expressing interest earlier, she won't say whether she will run for president.
By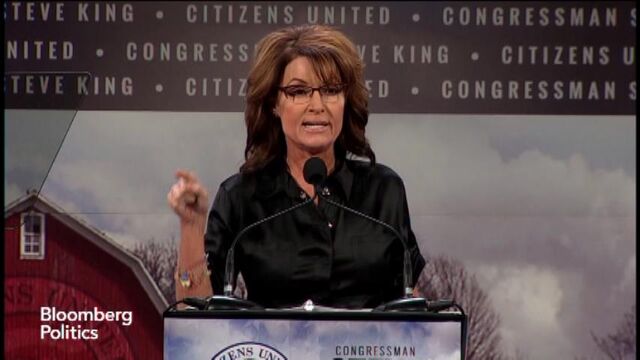 DES MOINES, Iowa—Sarah Palin, standing before a packed room of Republicans in Iowa, cast herself Saturday as the judge of who's a real conservative and who can beat Hillary Clinton in 2016.
"Things must change for our government," Palin said. "Look at it—it isn't too big to fail; it's too big to succeed. So we can afford no retreads or nothing will change."
"We're not in a mood to give politicians a pass just because they happen to have a certain party initial next to their name," she said.
Palin, the unsuccessful 2008 vice presidential candidate and former Republican governor of Alaska, told about 1,200 people attending the Iowa Freedom Summit that the nominating process should serve as a competition, not a coronation. She never mentioned by name either Mitt Romney or Jeb Bush, two popular moderate Republicans who are skipping the summit, though she did go after Clinton, considered the Democratic frontrunner.
Despite suggesting interest in the race on Friday, Palin never said whether she was in the race, and did not name a candidate who she thinks can win. 
Her prognostication on whether the GOP can defeat Clinton in a general election? With a vibrant, fresh candidate her party stands a good shot, she said. "To borrow a phrase, yes we can," she said.
Palin started a 30-minute speech addressing her latest rounds of controversy: defending both the film American Sniper and its protagonist, Chris Kyle. She also addressed the controversy that erupted recently over a picture of her youngest son, Trig, standing on top of the family's pet Labrador, saying that the pet had been trained in Iowa.
She recalled an event she recently attended in Las Vegas thrown by Kyle's widow. One veteran in the crowd held up a sign with an expletive for documentarian Michael Moore, who criticized the film. "I had my thumb up. It wasn't another finger," she said. "We were all thinking that."
CORRECTION: An earlier version of this story incorrectly identified Palin's son Trig.