Obama to Skip Taj Mahal Trip to Visit Saudi Arabia's King Salman
Anurag Joshi and Angela Greiling Keane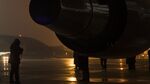 U.S. President Barack Obama will cut short a three-day India trip to pay respects to Saudi Arabia's royal family following the death of King Abdullah, a close ally and linchpin for U.S. policy in the Middle East.
Obama will cancel a trip to India's historic Taj Mahal on Jan. 27 and head to the kingdom before returning to the U.S., White House press secretary Josh Earnest told reporters traveling with the President. Obama arrives in New Delhi tomorrow to attend India's Republic Day celebrations Jan. 26.
"We adjusted the schedule in coordination with the Indian Government," Earnest said in an accompanying statement. "The President regrets that he will be unable to visit Agra during this trip."
Obama is the first U.S. president invited as chief guest to India's Republic Day festivities, which is considered an honor. The unusual appearance -- also making him the only two-time U.S. presidential visitor to India -- caps a turnaround in bilateral ties since the 2013 arrest of an Indian diplomat in New York.
He will deliver a scheduled speech in New Delhi on Jan. 27 before leaving for Saudi Arabia. Vice President Joe Biden, who was originally to have led a delegation to meet the new King Salman bin Abdulaziz, will stay in Washington.
"I always valued King Abdullah's perspective and appreciated our genuine and warm friendship," Obama said in a statement after the ruler's death was announced. Abdullah had a "passionate belief in the importance of the U.S.-Saudi relationship as a force for stability and security in the Middle East and beyond."
In accordance with religious tradition, Abdullah, who was born in 1924, was quickly and quietly buried yesterday following his death early the same day. He was succeeded by his half-brother Salman, 79, on the throne of the world's biggest oil exporter.
French President Francois Hollande, King Felipe VI of Spain and the U.K.'s Prince Charles and Prime Minister David Cameron announced plans to travel to Riyadh to pay respects. India, which announced a day of mourning, will be represented by Vice President Hamid Ansari.