King Launches Freedom Summit With A Call to Conservatives
The lawmaker says the time is ripe for "the next era of American exceptionalism."
By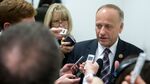 From Saturday's Iowa Freedom Summit, via the Des Moines Register:
U.S. Rep. Steve King, walking on the stage to big cheers as music from the theme of "Rocky" blared, ripped President Barack Obama and asked Iowans to work to elect a Republican president who is a "full-spectrum conservative."

King, a Republican from Kiron in northwest Iowa, asked the audience to help launch "the next era of American exceptionalism." He complained the nation has suffered the past six years under Obama and lamented it must endure another two years of the Democratic president in the White House.

"Do you believe that the next president of the United States is going to be speaking to you from this stage today?"

The crowd roared back, "Yes."
Read more here.