politics
Joni Ernst Says Grassroots Will Prevail in 2016
The GOP's rising star speaks to an enthusiastic home crowd.
By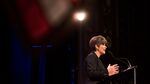 From the Des Moines Register:
Grassroots enthusiasm drove the GOP surge in 2014 and must rise again to elect Republicans in Iowa and nationwide in 2016, U.S. Sen. Joni Ernst told the crowd at Saturday's Iowa Freedom Summit.

Ernst, who has become one of the most prominent newly elected Republicans in the country, ticked through the GOP Senate majority's agenda but focused much of her speech on encouraging campaign activism among the 1,200 or so die-hard conservatives attending the summit at Hoyt Sherman Place in Des Moines.

"This energy is a tell-tale sign of great things to come," Ernst said. "This enthusiasm and this energy led to a tremendous victory in 2014."
Read more here.
Before it's here, it's on the Bloomberg Terminal.
LEARN MORE