In Iowa, Trump Promises to 'Surprise a Lot of People'
Four years after he flirted with a campaign, he's back and says this time might be different.
By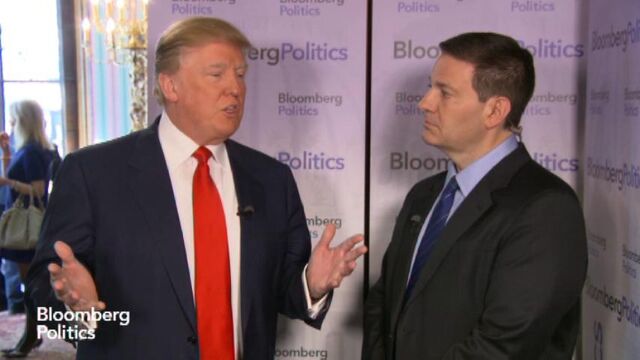 Donald Trump, real-estate mogul and host of reality television show The Apprentice, said he's "very seriously considering" a 2016 run for president this time.
"I might very well be. I think I'm going to surprise a lot of people," Trump told reporters Saturday at the Iowa Freedom Summit following an appearance with Bloomberg Politics' Mark Halperin. Asked if he should be taken seriously, Trump said "Absolutely. I'm a serious guy."
Flirtations with running, only to back out, have been a fixture of Trump's public persona for years. Four years ago he chose not to run despite early speculation and some signals of interest. Among his more controversial stands: His support for the "birther" movement that questions President Barack Obama's citizenship. 
Speaking about former Florida Governor Jeb Bush, Trump said, "I think he doesn't have a shot,'' citing Bush's support for immigration reform and Common Core educational standards as weights on a potential presidential candidacy. "The name is a huge liability," he said.  
As for 2012 nominee Mitt Romney, now considering a third try for the White House? "Mitt Romney had his chance. He blew it. He choked. He was a disaster as a candidate. What are we going to do? Give him a second chance?" Trump said.  
Sizing up another often-discussed Republican, New Jersey Governor Chris Christie, Trump said he's a friend and would be "formidable'' as long as the Bridgegate scandal doesn't continue to hang over him.
When he took the stage, Trump reiterated his criticism of Bush and Romney. He also called Obamacare "a big, fat horrible lie" and said Obama is either incompetent or has a hidden agenda. He said he wants to make the U.S. a rich country again with a strong military, and he chided Republicans for not being strong enough in fighting against the White House.  
Immigration would top his to-do list, he said.
"We have to build a fence, and it has to be a beauty," he said. "I build great buildings and believe me, a fence is easy."
CORRECTION: An earlier version of this story imprecisely described Trump's comments about the Bridgegate scandal.