Immigration Protesters Interrupt Rick Perry
Video: Protesters jump into action at the Iowa Freedom Summit.
By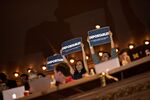 DES MOINES, Iowa—The 13 protesters had arrived at the start of the Iowa Freedom Summit, and waited until the right moment came to challenge Republicans. To some surprise, they waited most of the day, even as several Republicans including Iowa Representative Steve King talked in general terms about immigration.
Most of them finally leapt up when former Texas Governor Rick Perry started criticizing President Barack Obama's executive orders, and revealed signs that read "DEPORTABLE? Do potential presidential candidates agree with Rep. Steve King?"
It wasn't the first time some activists had attempted to face off with King.
"I confronted him in New Hampton, Iowa, my hometown," said university student Monica Reyes. "He held a town hall, and the whole time he talked about immigration, you could feel the tension. He let some other Caucasian woman talk for over five minutes, and when I asked a question, he said, 'You spoke too long.' He doesn't even want to have a conversation with us."
Yet none of the protesters got the conversations they'd come for. Perry, whose 2012 campaign suffered after he defended Texas's college tuition policy for non-citizens, had pointed at the protesters and said their boisterousness was what "America is about."
After most of them left, and shortly after New Jersey Governor Chris Christie started speaking, DREAM Action Coalition co-chair Cesar Vargas stood up and started trying to shout a question. The crowd quickly drowned him out, and Christie joked about the interruption. "Don't they know I'm from New Jersey?" he quipped. As Vargas was hauled out and arrested, Christie continued his speech.