Immigration Protesters Interrupt Rick Perry
Video: Protesters jump into action at the Iowa Freedom Summit.
By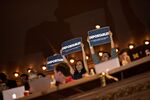 DES MOINES, Iowa—The 13 protesters had arrived at the start of the Iowa Freedom Summit, and waited until the right moment came to challenge Republicans. To some surprise, they waited most of the day, even as several Republicans including Iowa Representative Steve King talked in general terms about immigration.