Ernie Banks, Chicago Cub Who Wanted to 'Play Two,' Dies at 83
Laurence Arnold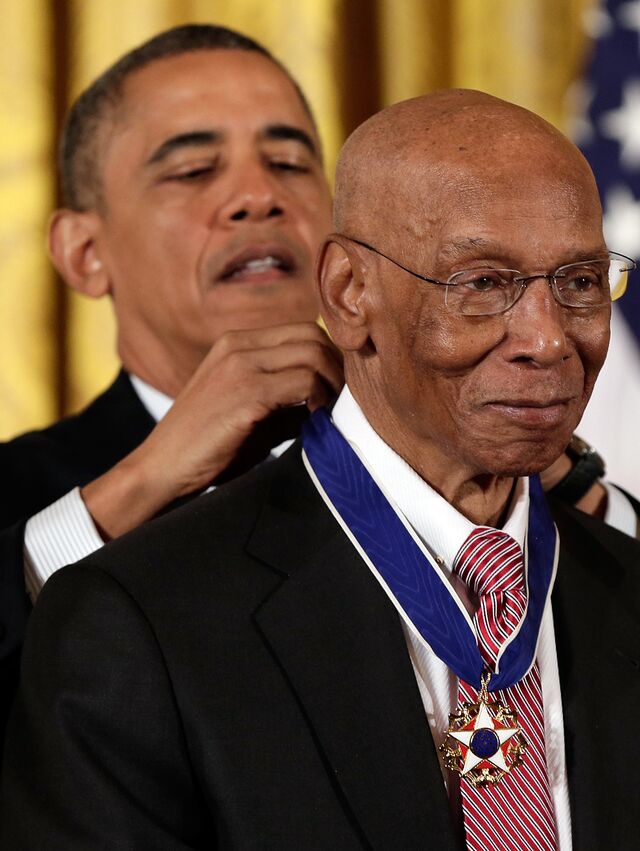 Ernie Banks, who was known to declare "Let's play two!" as the enthusiastic All-Star infielder for one of professional baseball's most beloved and bedeviled teams, the Chicago Cubs, has died. He was 83.
Banks died on Friday, the Cubs said in a statement on its website.
"Words cannot express how important Ernie Banks will always be to the Chicago Cubs, the city of Chicago and Major League Baseball," Cubs Chairman Tom Ricketts said. "He was one of the greatest players of all time. He was a pioneer in the Major Leagues. And more importantly, he was the warmest and most sincere person I've ever known."
In a 19-year career, all with Chicago, the man dubbed Mr. Cub was named to 14 All-Star Games, was voted National League Most Valuable Player in 1958 and 1959 and, in 1970, became just the ninth player to reach 500 career home runs. The 500 home-run club remains one of baseball's most elite, with just 25 members.
He never appeared in a World Series or playoff game, a reflection of the Cubs franchise's hangdog history.
Banks and another infielder, Gene Baker, were the first black players on the Cubs, called up in September 1953, six and a half years after Jackie Robinson of the Brooklyn Dodgers broke baseball's color barrier. Banks established himself as a fan favorite at Chicago's Wrigley Field not just for his play but for his warm and welcoming disposition.
'An Act'
"People who meet him for the first time, who hear him expound for the first time on the beauty of baseball, the Cubs, Wrigley Field and life in general, think it's all an act, a facade," Ron Santo, a teammate of Banks, wrote in "Few and Chosen Cubs," his 2005 book on the team.
"They keep waiting for him to drop his guard, but he never does," wrote Santo, who died in 2010. "I have known him for more than 45 years and I, too, have waited him to drop his guard, to be anything but upbeat, positive and optimistic. I'm still waiting."
The famous quote long attributed to Banks is usually rendered, "It's a beautiful day -- let's play two!" In a chapter for Alan Schwarz's 2007 book, "Once Upon a Game," Banks wrote that he first uttered it on July 18, 1967, in the clubhouse before a day game at Wrigley Field.
"It was about 105 degrees that day, and as I walked into our locker room, my Cubs teammates were really worn down," he wrote. "But I was feeling so great. So lucky. I was getting paid to do something I loved. So I walked in the locker room and I said, 'Boy, it's a beautiful day -- let's play two!' Everybody kind of raised up and looked at me. They were saying to themselves, 'This guy is crazy!'"
'Play Two'
Banks at various times offered other, conflicting dates for when he came up with the saying, according to Glenn Stout, author of "The Cubs: The Complete Story of Chicago Cubs Baseball." The first documented account of his "Let's play two" was in a March 14, 1969, article by the Chicago Daily News Service, Stout wrote.
Regardless, Banks took delight in coining a phrase that captured his love of the game. At the 1977 ceremony marking his induction into baseball's Hall of Fame, he told the admiring crowd in Cooperstown, New York: "We got the setting -- sunshine, fresh air. We got the team behind us. So, let's play two."
Ernest Banks was born on Jan. 31, 1931, in Dallas, the second of 12 children of Eddie Banks and his wife, Essie, according to a 1967 article in Ebony magazine. His father, who played semiprofessional baseball, supported his family by picking cotton and working in construction and as a custodian, the magazine reported.
Contract
At 17, while still in high school, Banks began playing summer baseball with the semipro Amarillo Colts, taking on teams in Texas and neighboring states. Signed by the Kansas City Monarchs of the Negro leagues, Banks reported to the team in 1950, then served two years in the U.S. Army.
Cubs' General Manager Wid Matthews purchased Banks' contract from the Monarchs and called him up for the final weeks of the 1953 season. In 1954, his first full season, he finished second in Rookie of the Year voting to Wally Moon of the St. Louis Cardinals.
From 1955 to 1960 -- as the Cubs finished no better than fifth among the eight teams in the National League -- Banks hit 248 home runs, more than any other player, and was named to all eight All-Star Games (baseball held two each year starting in 1959). In 1958, the first of his back-to-back MVP seasons, he hit .313 with 47 home runs and 129 runs batted in. The team, meanwhile, finished tied for fifth place, with 72 wins, 82 losses.
World Series
Banks moved to first base from shortstop starting with the 1962 season. He was part of the 1969 Cubs team that won 92 games but blew the National League East title in the final weeks to the "Miracle Mets" of New York, who went on to win the World Series. "When we were eliminated, I drove home and stopped along the lake and cried," he said later.
He retired after the 1971 season and was elected to the Hall of Fame in 1977, his first year of eligibility. The Cubs retired his No. 14 uniform in 1982.
Banks left the sport just before free agency drove salaries higher. The most he ever made in one season was $65,000, the New York Times said in 1983. Banks supplemented his baseball salary with business ventures.
In 1967 he and Robert H. Nelson Jr. opened a Ford Motor Co. dealership in Chicago, one of the first black-owned outlets in the U.S. He worked for the Cubs' promotional department after retiring as a player, and also tried his hand in banking and insurance. In 1992, the Los Angeles Times reported that Banks was a vice president of a company that developed executive benefits packages for corporations.
Banks had twin boys, Jerry and Joey, and a daughter, Jan Elizabeth, with his wife, Eloyce. That marriage ended in divorce, as had his first marriage, to Mollye Ector. He met his third wife, the former Marjorie Holmes, when he sat on the board of the Chicago Transit Authority and she was director of human resources. In 1997 he married the former Liz Ellzey, who ran his sports-marketing firm.
Before it's here, it's on the Bloomberg Terminal.
LEARN MORE