Egyptian Female Protester Shot Dead in March to Mark Uprising
Salma El Wardany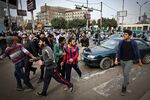 At least 18 Egyptians were killed at rallies Saturday and Sunday marking the the 2011 uprising that toppled Hosni Mubarak.
Sixteen people were killed on Sunday and at least 45 were injured, Hossam Abdel Ghaffar, a health ministry spokesman, said. A day earlier, a woman activist and a member of a secular-leaning party were shot dead during a march toward Tahrir Square in Cairo.
The Popular Alliance party said in a statement that police gunned down Shaimaa el-Sabagh, who was unarmed, during a march to lay a wreath of roses at the square, the epicenter of the revolt. A photo on social media showed her looking dazed, her face streaked with blood and a video showed a man carrying her body. The police said they're investigating the shooting.
Four years after the uprising, human rights activists say President Abdel Fattah El-Sisi has restored the police state that prevailed under Mubarak in a bid to crush dissent. El-Sisi's supporters say tough measures are necessary to crack down on militants and restore order, especially as violence and anarchy deepen elsewhere in the Middle East. Demonstrations that don't receive police permits have been banned for more than a year and are broken up.
"Now it's worse than Mubarak's days," said Sally Toma, an activist who took part in the 2011 uprising. "The counter-revolution has succeeded, but we are not done for yet, we will continue our fight."
Muslim Brotherhood
The government blames most of the violence on the Muslim Brotherhood, the group that fielded Mohamed Mursi in the 2012 presidential election. El-Sisi, then Mursi's defense minister, led his ouster in July 2013 after mass protests against the Brotherhood's rule.
Commemorations of the 2011 uprising turned deadly on Jan. 23, when a 17-year-old student, Sondos Rida, was killed while protesting in Alexandria, the Brotherhood's outlawed political wing, the Freedom and Justice Party, said on its Facebook page. It said Rida was killed by security forces attempting to control a demonstration.
The death toll included two people who were killed when a bomb they were trying to plant went off prematurely in the western province of Beheira, the police said in a statement. They were identified as members of the Brotherhood.
The 2011 revolt ended Mubarak's three-decade rule, during which activists say income inequality deepened and human rights violations were commonplace.
Before it's here, it's on the Bloomberg Terminal.
LEARN MORE