Alabama's Gay-Marriage Ban Thrown Out
Edvard Pettersson and Andrew Harris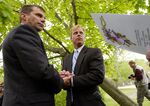 Alabama's prohibition on gay marriage was ruled unenforceable by a federal judge who said the ban violates the U.S. Constitution by singling out and harming children of same-sex couples.
One week after the U.S. Supreme Court said it would consider state gay-marriage bans, U.S. District Judge Callie Granade in Mobile on Friday rejected arguments that the Alabama Sanctity of Marriage Amendment and the Alabama Marriage Protection Act serve a legitimate goal of protecting the bonds between children and their biological parents.
Alabama immediately asked Granade to put her decision on hold so no same-sex marriages can be performed in the state until the Supreme Court decides the issue.
On Sunday, she issued a two week delay so that the state could prepare a stay request for the U.S. Court of Appeals in Atlanta. The high court isn't expected to rule until summer.
No Link
There is no link between Alabama's ban on same-sex unions and the recognition of such unions performed in other states, and the state's purported goal of having more children raised in the biological family structure, Granade ruled.
"If anything, Alabama's prohibition of same-sex marriage detracts from its goal of promoting optimal environments for children," Granade said. "Those children currently being raised by same-sex parents in Alabama are just as worthy of protection and recognition by the state as are the children being raised by opposite-sex parents."
Supreme Court
The Supreme Court agreed to review prohibitions on same-sex marriages that are being challenged by couples from four states. The court's ruling could clear the way for same-sex couples to marry in all states and may stand alongside the 1967 decision that struck down bans on interracial marriages.
In 2013, the high court struck down part of a law that denied federal benefits to same-sex spouses. The decision helped trigger dozens of lawsuits across the country challenging state bans, culminating in the new Supreme Court case.
In the Alabama case, two women who married in California challenged the state law after one of them was denied a request to adopt her spouse's child.
Delaying the Alabama judge's ruling until a Supreme Court decision "will serve the public interest by avoiding the confusion and inconsistency that will result from an on-again, off-again enforcement of marriage laws," Strange said in his request. The delay won't harm the plaintiffs because it'll simply mean the current law stays in place until the Supreme Court review, he said.
The case is Searcy v. Strange, 14-cv-00208, U.S. District Court, Southern District of Alabama (Mobile).
An earlier version of this story was corrected to reflect the proper spelling of the judge's name.
Before it's here, it's on the Bloomberg Terminal.
LEARN MORE