business
Thai Government Impeaches and Bans Former PM Yingluck -- Over Rice
Chris Blake and Suttinee Yuvejwattana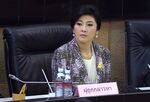 Thailand's junta-appointed legislature impeached former Prime Minister Yingluck Shinawatra and banned her from politics for five years, while the Attorney General's office announced it will file criminal charges against her.
The impeachment and criminal charges, which are tied to alleged corruption in the Yingluck government's rice subsidy program, threaten to upset a fragile calm that has emerged since junta leader Prayuth Chan-Ocha toppled her government in May and enforced martial law. Prayuth has said he wants to "return happiness" to the country by ending political turmoil.
"Reconciliation cannot happen by chasing after any particular person," Yingluck said after her impeachment Friday in a statement on her Facebook page. "When there is fairness, justice will follow and then acceptance, peace and unity will happen in Thai society."
Yingluck has argued that the allegations against her are politically motivated and she has defended the rice purchasing program as a way too boost incomes in rural areas. She also questioned how she could be impeached when she is no longer in office. The junta's hand-picked National Legislative Assembly, which is dominated by active or former military officers, voted 190-18 in a secret ballot to impeach her.
"It doesn't really make sense, and Yingluck has herself made that point," said Patrick Jory, senior lecturer in Southeast Asian history at The University of Queensland in Australia. "It's more a kind of theater to give legitimacy and a sense of due process to what appears to be the military regime's main objective, to ban Yingluck from politics."
Criminal Charges
The impeachment came hours after the Attorney General's office announced it will file criminal charges against Yingluck and seek a possible 10-year jail term. Both cases are based on a National Anti-Corruption Commission investigation that found Yingluck was negligent for failing to stop losses from the program, which bought rice from farmers at above-market rates.
Yingluck's supporters, many of them farmers from the country's vote-rich north and northeast, are likely to see impeachment or a criminal conviction as further proof that the nation's military, courts and watchdog agencies in Bangkok are intent on ignoring their electoral choices.
Yingluck agreed to cancel a planned press conference, junta spokesman Winthai Suvaree said, adding that "it's not an appropriate time to have any political movement." The benchmark SET Index of stocks rose 2.4 percent to close at its highest level in almost two months.
Yingluck's brother Thaksin Shinawatra, the first Thai prime minister to serve a full term, was ousted in a 2006 coup. Despite winning every election since, his allied parties have never again controlled the government for a full term due to court decisions or military intervention. The past decade of political strife has been punctuated by repeated and often deadly street protests by his supporters and opponents.
'Political Martyr'
Thaksin himself was banned from politics for five years by a court appointed by the previous junta, and he was later convicted of corruption and abuse of power. He too says the charges against him were politically motivated and he lives abroad to avoid jail.
"History has shown that Thaksin remains relevant if not dominant in Thai politics despite being forced to live in exile for almost a decade," said Verapat Pariyawong, a visiting scholar at SOAS, University of London. "That is not necessarily because Thaksin is an innocent man or a great leader, but rather because he was made an undeniable victim of the undemocratic process. Today Yingluck joins her brother as another 'undying political martyr.'"
Verapat is a Harvard-trained lawyer who once advised a former minister from Yingluck's government and was summoned to report to the army in May. After the coup, the military summoned and temporarily detained hundreds of politicians, activists, academics and journalists.
Junta Confidence
"It seems that this retrospective political action banning Yingluck is a show of confidence by the junta," said Kevin Hewison, director of the Asia Research Centre at Murdoch University in Perth. "It also allows the junta to reassert its anti-Thaksin credentials with the pro-royalist street movement that paved the way for the coup."
Those street protests were unleashed when Yingluck's government passed a bill in late 2013 that would have pardoned most of those accused of political offenses in previous years, including Thaksin. Even though her party dropped the bill and called fresh elections, the protesters refused to allow the poll to take place and urged the army to intervene in their efforts to "reset" Thai politics and rid it for good of the Shinawatras, who they accuse of corruption, rights abuses, vote buying and disrespect for the nation's monarchy.
'Challenging Decision'
"The courage to make a challenging decision by the National Legislative Assembly today marks a new beginning towards a reform era of Thailand," said Akanat Promphan, a spokesman for the protest group, known as the People's Democratic Reform Committee. "Justice under the rule of law is a true long-term solution to division in Thai society."
Yingluck's party swept to office in 2011, in part by appealing to Thailand's millions of rice farmers with a plan to buy their crops at above-market rates. Yingluck said the program would help resolve income inequality, while her opponents considered it ill-conceived, open to corruption and a form of vote-buying.
The program was criticized by exporters for distorting the market and dethroning Thailand as the largest rice exporter. International rating companies including Moody's Investors Service voiced concern that the program strained public finances.
The National Anti-Corruption Commission ruled in July that Yingluck was negligent for failing to halt the program after being warned of losses that grew to an estimated 500 billion baht ($15.4 billion). It has since recommended 21 other people be charged.
Yingluck Depressed
"The policy has a hidden agenda, causing corruption in the whole process," Vicha Mahakun, a corruption commissioner, told the legislature Jan. 22. "The accused person, who had the authority to terminate the program, didn't terminate it, causing the damages to become even worse."
Yingluck, in her statement today, said she would continue to fight to prove her innocence and work to return democracy to Thailand.
"I am depressed, not because I have been bullied and faced with an unfair destiny," she said. "I am sad for farmers, for all Thai people who will lose opportunity and will go back into a cycle of poverty filled with debt and being taken advantage of, losing basic democracy and the rule of law."
(Updates with analyst comment in fourth paragraph.)
Before it's here, it's on the Bloomberg Terminal.
LEARN MORE