politics
Steve King is Just Happy to Be Here
The kingmaker speaks, and speaks.
By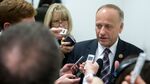 DES MOINES, Iowa—The only person surprised at the size of this weekend's conservative gathering in Iowa might be Representative Steve King. Back on Nov. 18, 2014, Citizens United announced that King would host its "Iowa Freedom Summit." The congressman from western Iowa watched the total media RSVPs for the event rise to around 200. He watched more and more potential Republican presidential candidates sign on, until only Mitt Romney, Jeb Bush, and Rand Paul  were absent.
"These are professionals, and this is the best cast of characters that I ever remember," King said this week, before heading back to the state. "I want to watch the watch the reaction of the crowd. I'm the guy who sits in the back of the room, looking around. I want to see all the faces. I want to see the body language. I want to hear the voice inflection, and I get to do most of this behind the curtain, watching 1250 people react to the candidates, watching who brings a standing ovation, what brings applause."
Every four years, King's clout in the state and the party grow. In the George W. Bush years, King established himself as an opponent of any comprehensive immigration bill that legalized the undocumented. In 2008, serving his third term, he waited until the week before the caucuses to endorse a champion–Fred Thompson, who flamed out almost immediately. He made no endorsement in 2012, but this year his seniority in the delegation is second only to Senator Chuck Grassley, and candidates are coming to him.
Chris Christie, for example. "He and I have been friends for a long time," said King. "He's also been friends with [Governor] Terry Branstad, of course, and he was there at his inauguration on Friday. What I find is that when Chris Christie tells you something you can believe it. He's a man of character. He's strong, and he's confident, and he's a verbal pugilist. He can punch pretty hard if he needs to."
What about Rick Perry, whose 2012 run started to wrap around the axel when he defended Texas's in-state tuition for undocumented immigrants? "He's given a good number of speeches in Iowa since then and people have responded very well to him," said King. "He'll know how to message. He's more likely to take things on than to avoid subjects and that's all to his credit."
In a short interview with a couple of reporters, King had nothing bad to say about any 2016 pretender. They have nothing bad to say about him. As Benjy Sarlin reported for MSNBC, King's immigration stance has made him a high-profile enemy of reformers and dreamers, and they've tried to spook Republicans out of appearing with King. "If the GOP wants to win in 2016," DREAMer Erika Andiola told Sarlin, "then they're going to make sure they stay as far away as possible from Steve King."
They just aren't. King has been in contact with Jeb Bush, and before Romney officially declined the Iowa event, King insisted he'd get a good reception. "People like Mitt Romney," said King. And in 2012, Romney hadn't distanced himself from King on immigration. Mike Huckabee, who had run to Romney's left on the issue, won the 2008 caucuses anyway. King declined to say what Huckabee needed to tell Republicans about immigration on Saturday.
"We'll see if he speaks of it at all," King said. "Mike Huckabee knows Iowa, and he'll have a message that resonates." 
Before it's here, it's on the Bloomberg Terminal.
LEARN MORE