Risk Appetite Poised for Return in U.S. Stocks: Chart of the Day
David Wilson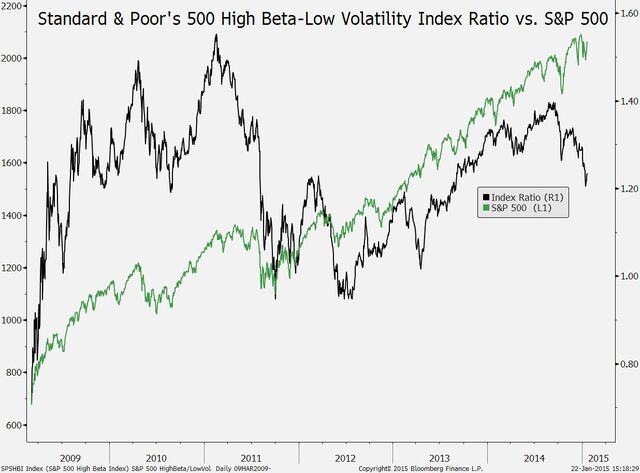 Riskier U.S. stocks are likely to come back into favor among investors as a bull market persists, according to Andrew Burkly, a strategist at Oppenheimer & Co.'s asset-management unit.
The CHART OF THE DAY displays a ratio of the Standard & Poor's 500 high beta and low volatility indexes, an indicator that Burkly cited in a report yesterday. Each gauge consists of 100 stocks in the S&P 500. High-beta shares are more sensitive than others to market swings, while low-volatility shares have relatively small day-to-day price moves.
Yesterday's ratio was 12 percent below last year's peak, reached Aug. 26. The drop reflects gains among real-estate investment trusts and utilities, which together represent about a third of the low-volatility index's stocks. The S&P 500 rose
3.1 percent in the same period.
"A recovery in high-beta relative performance" has more of a chance to resolve the conflict than falling stock prices, Burkly wrote. The New York-based strategist cited precedents in 1996 and 2006, when the ratio sent sell signals in bull markets and then reversed itself as share prices kept rising.
"The weight of the evidence continues to argue for stock prices to work higher," he wrote. U.S. jobless claims and the Institute for Supply Management's corporate purchasing-manager indexes are among indicators pointing that way, in his view.
The S&P indexes used to calculate the ratio are tracked by exchange-traded funds from Invesco Ltd.'s PowerShares unit. The high-beta ETF's assets totaled $225 million as of two days ago, according to data compiled by Bloomberg. The low-volatility ETF was far larger, with $5.42 billion in assets.
Before it's here, it's on the Bloomberg Terminal.
LEARN MORE