Riksbank Has Substantial Equity If Needed for QE, Jochnick Says
Amanda Billner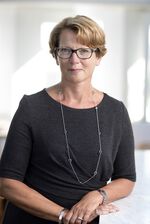 Sweden's central bank has built up the necessary buffers to enact unconventional policies if needed, First Deputy Governor Kerstin af Jochnick said.
"Although there is no lack of challenges, the Riksbank is financially strong," she said in a speech. "This is important to be able to perform our task in the best possible way. The bank has substantial equity, which may well be needed if the Riksbank is forced to adopt unconventional methods to bring up inflation."
The bank has added buffers to withstand a "gloomy" five-year period, building up foreign currency reserves and adding a portfolio of Swedish securities, she said.
The central bank last month vowed to keep its main rate at zero further into 2016 and said it was prepared to postpone increases and enact measures such as asset purchases, direct lending, negative rates and currency interventions. The bank, led by Governor Stefan Ingves, has reversed rate increases made in 2010 and 2011 amid criticism for failing to meet its 2 percent inflation target.
"Given that we now have a repo rate close to zero and we are discussing which unconventional measures might be appropriate if inflation does not rise towards 2 percent, it is good that the Riksbank has created the possibility and knowledge to manage a bond portfolio," she said. "This means that we now can quickly and simply purchase and sell bonds, something that would previously have taken us much longer."
The European Central Bank yesterday announced a 1.1 trillion-euro ($1.3 trillion) quantitative easing program to prevent deflation from taking hold in the euro area. That pushed the euro down. Sweden's krona strengthened 1.4 percent against the euro yesterday, adding to pressure on the bank since a stronger currency can further cool price growth.
Sweden's main gauge of inflation has showed consumer prices have fallen for five straight months. Inflation expectations have continued to slide. A survey by TNS Sifo Prospera, released Jan. 21, showed traders anticipate inflation at 1.2 percent in two years. That's down from 1.6 percent in October, the month the bank lowered rates to zero.
Before it's here, it's on the Bloomberg Terminal.
LEARN MORE