Merkel Lauds Italy's Renzi as Counterpoint to ECB Action
Patrick Donahue and Lorenzo Totaro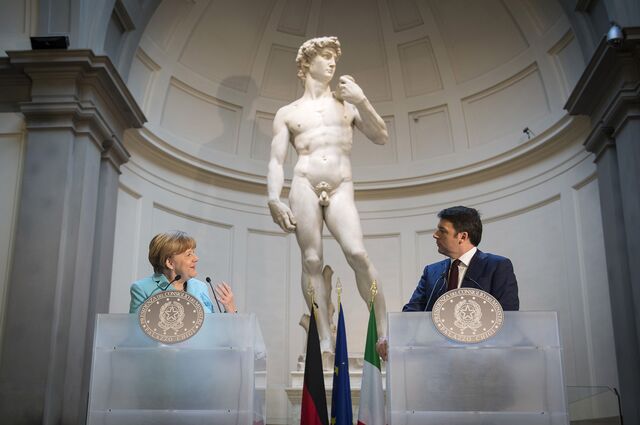 German Chancellor Angela Merkel said Italy's "impressive" economic reforms show what needs to be done alongside the European Central Bank's trillion-euro asset purchases, which she says can't replace government action.
Standing alongside Italian Prime Minister Matteo Renzi beneath Michelangelo's statue of David in Florence, Merkel said Friday she's convinced he's taking steps to overhaul Italy's labor market and administration at an "impressive tempo." She showcased Italy's efforts as a counterpoint to the ECB's quantitative easing, which German officials view critically.
"I'm fairly relaxed considering what's happening in Italy," Merkel said as Renzi hosted her in his political homeland. "Here, things are being reformed, steps are being taken and confidence is being built on that."
As German Finance Minister Wolfgang Schaeuble warned of "moral hazard" in the ECB's asset-purchasing program, Merkel reasserted her government's effort to make governments stick to fiscal discipline and reforms.
Renzi took up the theme, telling a joint news conference that the ECB's decision on Thursday "prompts us to be even more determined on the reforms. Italy can and must speed up the path of reforms."
German Pressure
Renzi's labor-market overhaul, which lawmakers passed last year, introduced cuts to the number of short-term contracts, simplified the labor code and created a system in which workers' protection increases with seniority.
The former mayor of Florence is also trying to scale back Italy's public administration, overhaul the nation's fiscal rules and streamline the justice system.
Italian borrowing costs fell to a record after the ECB's action. Italy's 10-year yield fell nine basis points to 1.46 percent and touched 1.413 percent, the lowest level since Bloomberg began collecting the data in 1993.
Merkel touted Italy's efforts as an antidote to potential risks in ECB President Mario Draghi's 1.14 trillion-euro ($1.28 trillion) program designed to lift the 19-member euro area from the brink of deflation. Schaeuble drove home the message at the World Economic Forum in Switzerland.
Governments and lawmakers could now "misunderstand that they don't have to do what they have to do," he said Friday on a WEF panel in Davos. Merkel told the forum a day earlier that QE risks reducing the incentive for economic overhauls, masking which countries do "a better job of tilling the field."
Sculpting Reforms
On the chancellor's overnight trip to the Tuscan capital, Renzi hosted dinner in the 15th-century Palazzo Vecchio, gave her a tour of the Uffizi Gallery and walked her through the Vasari Corridor, a portrait-filled secret passage built by the former Medici rulers.
As they stood in the Accademia Gallery at the foot of the Renaissance masterpiece, Renzi compared Italy's political reforms to Michelangelo sculpting the Biblical hero from marble. Merkel remarked on the city's place in Europe's cultural heritage.
"Europe didn't just start with us and it won't end with us," she said.
Before it's here, it's on the Bloomberg Terminal.
LEARN MORE