Hollywood's Shopping at Sundance as Independents Rule
Anousha Sakoui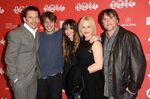 New Line Cinema's Carolyn Blackwood skipped the Sundance Film Festival for six years. She's there now, in a return that highlights how determined Hollywood studios are not to miss the next "Boyhood," the favorite to win the best-picture Oscar.
Studio executives regularly make the pilgrimage to Park City, Utah, if not to buy films then to hunt for talent at parties and on the slopes. But this year, there's a new urgency. As Warner Bros., Paramount Pictures and others make fewer and fewer movies, they risk missing out on small projects that could bring profits and critical acclaim. And with Netflix Inc. and other small-screen rivals getting into the movie-buying business, the traditional studios have got to get creative.
"There is an increase in high quality, independently financed films with commercial potential, and we are paying attention to them," said Blackwood, executive vice president of strategy and operations at the Warner Bros. label and an executive producer of the three "Hobbit" movies. "Sundance and other festivals provide a valuable opportunity to find those films."
It's not lost on anyone in Hollywood that many of the eight best-picture Oscar nominees were financed or made outside the studio system, or both. Two of them -- Sony Pictures Classics' "Whiplash" and IFC Films' "Boyhood" -- were screened at Sundance last year.
Shrinking Pool
The six major studios have in recent years been cutting back on small-budget projects -- the ones they make themselves and those they buy from independent filmmakers -- to focus on megabudget superhero flicks and franchises that have worldwide appeal and are the safest bets. Time Warner Inc., for example, closed its Warner Independent Pictures and Picturehouse units in 2008, and merged New Line with its Warner Bros. unit.
"This year we are seeing more interest in Sundance from the major studios," said Graham Taylor, head WME Global, the film financing and distribution division of talent agency William Morris Endeavor Entertainment LLC. "Sundance acquisitions are appealing because they have strong box-office potential without taking on the risk of production costs."
The studios' interest in Sundance is also fueled by the growing ranks of competitors, including smaller distributors like IFC, which is owned by AMC Networks Inc., and the relative newcomers to movie auctions that are changing the dynamics in Hollywood, such as Netflix and Amazon.com Inc.
'Usual Suspects'
"There are a lot of new people, more companies, here this year," said Tom Bernard, head of acquisitions at Sony Pictures Classics, the independent-movie arm of Sony Pictures Entertainment. "There are a lot of people here -- with a lot of different agendas."
Sundance, the first movie market of the year, is where a celebrated list of relatively inexpensive hits and award-winners have been discovered. Among them: "The Usual Suspects" "Little Miss Sunshine," and "Napoleon Dynamite."
Taken over by Robert Redford 30 years ago, the festival began as a quirky promoter of indie projects and turned into a high-profile happening with sponsors like Acura, YouTube and Grey Goose vodka. It kicked off Thursday with five screenings; 123 movies will be shown over the festival's 10 days.
The lineup includes "Mistress America" -- picked up by Fox Searchlight before the festival even started -- and "The Wolfpack," a documentary about brothers locked in an apartment on Manhattan's Lower East Side who learn about the outside world by watching movies.
Remake Rights
"'The Wolfpack' is one example of a film at Sundance that is on everybody's list," said Josh Braun, a producer and co-founder of Submarine Entertainment who's in Park City. "One area where we have seen a lot of new interest over the past year from studios is for remake rights to documentaries. There has been a realization that when you buy rights to a documentary you have someone who has spent time creating the story -- a storyboard for a feature film and all the narrative arcs that you would want for a dramatic feature."
The main buyers at film festivals are typically the studios' specialty divisions, such as 21st Century Fox Inc.'s Fox Searchlight, and smaller distributors, including the Weinstein Co. and A24 Films.
At Sundance, Netflix agreed to finance four pictures from producers Mark and Jay Duplass, according to Jonathan Friedland, a spokesman for the Los Gatos, California-based company said on Friday. The films will have a short theatrical released and then be offered to Netflix, the world's largest subscription-streaming service, according to Deadline Hollywood, which reported the deal earlier.
In September, Paramount left the Toronto Film Festival with "Top Five." The comedy, directed by Chris Rock and produced by Scott Rudin and Barry Diller's IAC/InterActiveCorp., set off a bidding war. Paramount, owned by Viacom Inc., got the distribution rights for $12 million.
Sony's Bernard, a longtime Sundance attendee, points out that identifying a winner like "Whiplash" isn't easy. The film, another Oscar nominee, didn't sell for several days after last year's Sundance, and while it and "Boyhood" made their debuts at the festival, it's still unusual for a big hit to emerge.
"You just never know what's going to happen," Bernard said.
(Corrects number of "Hobbit" movies in third paragraph.)
Before it's here, it's on the Bloomberg Terminal.
LEARN MORE