Four Things We Learned From the Paris Menswear Shows (So Far)
Trends and pieces to consider for your "art" collection
By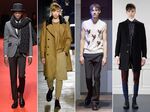 Paris Fashion Week started on a light, good note with the stellar Valentino show. Since then, armies of intricately cool designers have debuted rather impressive (and shall we say ... artistic) clothing. This week may not include the most wearable looks, but they're certainly a gasp to watch.
So as we reach the midpoint of the action, let's take stock of the trends, pieces, and designers I believe to be worthy of splurging on for your own "art" collection.
Junya Watanabe Is the King of Good Vibes

Learn this name (or at least how to say it so you can request it at Nordstrom: June-Ya Wah-Ta-Nah-Bey). He bewitched me, forever earning my fashion allegiance with such a sexy, cool collection of sharp evening wear hybrids. His show was also an excellent lesson in how to rock hats, something that very much reminded me of colleague Hannah Elliot, Pursuits' autos editor. (Also, Mr. Watanabe, file the names of that casting director and music producer for next season—well played, sir.)
Ethnic Embellishments Are Romantic (at Least in Belgium)

Google Be My Baby by DM Stith—a remix, of course, of The Ronettes' classic tune, but an ever-haunting and emotion-provoking version. Now imagine it playing while some of the most handsome, howling outerwear trumped down a well-lit corridor. It kind of made me fall in love ... with a coat?! This was the Dries Van Noten show. The Belgian designer is known for heart-tugging touches of showmanship as much as he is for his idealistic collections. But even the muted intimacy of the spectacle couldn't outshine the clothes, which were an homage to one's well-traveled self (a recurring trope with the designer).
The result: Van Noten's favored flashes of tribal, nomad-esque embellishments resulted in some of the most standout pieces shown in Paris thus far.
"I Love When You Don't Wear Sleeves" (Says No Woman Ever)

I am a big believer that fashion falls into two categories: fantasy and believable. (That first type of fashion is especially true in Paris, where avant-garde designs are a tour de force.) For example, "believable" would be a guy wearing a quilted vest over a shirt or knit (like this season's must-have, the turtleneck). "Fantasy" would be a guy wearing that same vest (sleeveless, mind you) without anything underneath—as in, suns out, guns out arm-baring. In a word: ewww. Which is exactly my reaction to every look I have seen with exposed arm flesh the last few days, from 3.1 Phillip Lim to Maison Martin Margiela.
Yet all is not lost. Let me teach you a trick I learned from my many seasons as a fashion editor: The difference between fashion hits and misses is all in your ability to reimagine the right pieces. So while I am not wild about elongated, canvas jackets sans sleeves—or quilted vests over mesh tank tops (double offense)—I do appreciate the unique layering ability of these pieces and want to emphasize that given the right layers underneath (i.e., any layer underneath), they can not only be believable but truly remarkable.
Double Up

We learned in London and Milan that turtlenecks are not going anywhere anytime soon. The surprise is in the styling (like the above mentioned sleevelessness of the runways). Rollnecks are peeking out from beneath extra layers of knits—everything from mohair or cashmere pullovers to handspun cardigans and wooly crewnecks. Additional trend: white turtlenecks, as seen at Sandro and Balenciaga.
And there you have it, style fans. Three more days in Europe before we head back to New York City for the mid-February menswear shows (followed by the women's collections, which we will touch on, too). Thanks for following along. Be sure to catch all the reviews and recaps on our new Twitter @luxury, plus live images on our Instagram @BloombergPursuits. And please send any questions or comments about anything seen at the collections to me personally @nixcruz—except that ballsy (literally) Rick Owens collection, for which I nor anyone have any justification or answers for. Sorry.
Nic Screws is the style director at Bloomberg. She is currently running for president of the Junya Watanabe fan club, American ladies of menswear chapter. Follow her on Twitter and Instagram.
Before it's here, it's on the Bloomberg Terminal.
LEARN MORE