Everybody Expects Syriza to Win. Then What?
What to watch for after the anti-austerity party's likely election victory on Jan. 25
By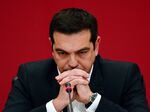 It's now clear that Syriza, the anti-austerity party that wants to tear up Greece's bailout deal with international creditors, will win the election in Greece on Jan. 25. The latest polls show Syriza, led by the fiery Alexis Tsipras, running as many as 10 points ahead of incumbent Prime Minister Antonis Samaras's New Democracy party.