Democratic National Convention Will be Held Week of July 25, 2016
Next question: Where will it be held?
By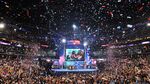 The 2016 Democratic National Convention will be held the week of July 25, the Democratic National Committee announced Friday. 
The convention will take place the week after the Republican National Convention, set for July 18 to 21 in Cleveland. Democrats have not announced where the convention will be held—the committee is currently choosing among Columbus, Ohio, Philadelphia, or New York. 
If July seems a little early for a convention, that's because it is. In 2012 the DNC held its convention in early September, while the Republican event was in late August. The 2008 conventions where held in late August, early September as well. But moving up the convention has its benefits—as Republican National Committee chairman Reince Priebus noted last week, candidates can't access general election funds until after being chosen at the convention.