Cerberus Said to Be in Talks to Acquire Digital First Media
Alex Sherman, Gerry Smith and David Carey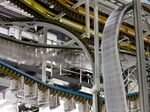 Cerberus Capital Management LP is in talks to acquire Digital First Media Inc., the owner of newspapers including the San Jose Mercury News and the Denver Post, people with knowledge of the matter said.
There may be other potential bidders, said two of the people, who asked not to be named because the discussions are private. Digital First may be valued at about $600 million, one person said.
The sale of Digital First Media could affect the local news coverage in dozens of communities that have hundreds of thousands of readers. In many markets, newspapers hold the largest share of advertising revenue and employ the only journalists covering local issues, said Alan Mutter, a newspaper consultant who writes the blog "Reflections of a Newsosaur." Digital First's Denver Post is the last statewide newspaper in Colorado after the Rocky Mountain News shut down in 2009.
"Newspapers don't mean as much as they used to in the world of the Internet but they still mean a lot," Mutter said. "Buzzfeed may have more eyeballs and page views but they aren't covering Erie, Pennsylvania, or Charleston, South Carolina, the way local newspapers do."
Long Decline
Cerberus, the New York-based private-equity firm led by Stephen Feinberg, owns a majority stake in YP Holdings LLC, a yellow pages publisher and online advertising company. Combining the newspaper company with YP Holdings' sales force could help add scale and cut back on costs, according to one of the people familiar with the situation.
Capital New York reported earlier that Apollo Global Management is also bidding for Digital First. A spokesman for Apollo declined to comment.
The newspaper industry is struggling to rebound from a decade-long decline. From 2003 to 2013, the newspaper industry's combined print and digital advertising revenue dropped 55 percent, to $20.7 billion from $46.2 billion, Mutter said. Over the past decade, weekday print circulation fell 47 percent to an average of 29.1 million papers per day from an average of 54.6 million papers per day, he said.
Digital First is the third-largest U.S. newspaper group, owning 76 daily and 160 weekly papers in 15 states. The closely held company said in a September statement it hired UBS AG to help it review strategic alternatives.
A transaction isn't imminent and talks may still fall apart. Molly Morse, a spokeswoman for Digital First Media, declined to comment, as did John Dillard, a spokesman for Cerberus at Weber Shandwick.
'Many Options'
"We believe we have many options available to us to maximize the value of our businesses for our stockholders, and the board of directors has therefore decided to assess the full range of those opportunities," Digital First Chief Executive Officer John Paton said in the September statement.
Digital First prefers to sell the entire company rather than a division of sales because it doesn't want to be stuck with a handful of newspapers, creating a subscale company, said one of the people with knowledge of the matter. Digital First was created after MediaNews Group Inc. and Journal Register Co. combined in December 2013.