Billionaire Pain Is Windfall for Peso Bondholders: Mexico Credit
Brendan Case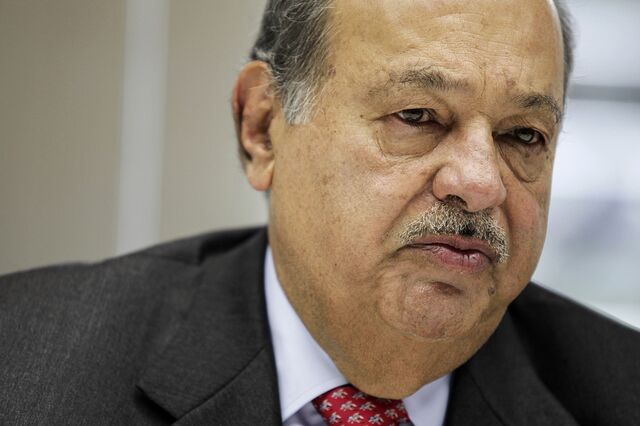 Investors in Mexico's government bonds are proving to be some of the biggest winners from rules designed to restrain billionaire Carlos Slim's ambitions in the telecommunications industry.
The nation's benchmark peso notes due 2024 rallied, pushing yields to a 19-month low yesterday, after the government said the elimination of long-distance phone fees helped reduce the annual inflation rate to the lowest in almost four years. The government scrapped the charges as part of its effort to boost competition in an industry where Slim's America Movil SAB controls at least 70 percent of the market.
The slowdown in cost-of-living increases is now fueling speculation that Mexico's central bank, led by Governor Agustin Carstens, will hold off on raising interest rates from a record low 3 percent. Marco Oviedo, Barclays Plc's chief economist for Mexico, pushed pack his forecast for an increase by almost two months to December.
"We didn't anticipate this big of an impact in telecommunications," said Rodolfo Navarrete, the head of research at Vector Casa de Bolsa and the most accurate forecaster of Mexico inflation in Bloomberg surveys. "We're lowering our inflation forecast, and we think other firms will do the same thing."
He said he now expects 2015 inflation to slow to about 3.15 percent. Vector's previous estimate was 3.45 percent, according to a survey released Jan. 20 by Citigroup Inc.'s Banamex unit.
Law Overhaul
Yields on the 2024 peso bonds fell to 5.4 percent yesterday, the lowest since June 2013. The peso weakened 0.1 percent to 14.6446 per dollar at 1:37 p.m. in New York.
Annual consumer price increases slowed to 3.08 percent in the first half of January, the lowest since March 2011 and down from 3.97 percent in the second half of December. Doing away with domestic long-distance charges as of Jan. 1 was one of the two biggest reasons behind the decline in living expenses, along with a drop in tomato prices, the nation's statistics institute said. International long-distance prices also sank 41 percent.
The changes were part of an overhaul of the nation's telecommunications laws that President Enrique Pena Nieto signed into law last year.
America Movil, based in Mexico City, controls 70 percent of Mexico's mobile-phone market and 80 percent of its fixed lines. A company press official didn't reply to a request for comment.
"We're starting to see the effects of the structural reforms," Delia Paredes, an economist at Grupo Financiero Banorte SAB, said by telephone from Mexico City.
Barclays's Oviedo predicts annual inflation will slow to 2.8 percent, down from an earlier forecast of 3.1 percent.
"We were expecting a weak number but not of this magnitude," he said by telephone from Mexico City. "I don't see the conditions for hiking rates until the end of the year."
Before it's here, it's on the Bloomberg Terminal.
LEARN MORE