Happy Birthday, Beer Can!
On Jan. 24, 1935, Krueger Brewing sold the first beer in a can. Here is how the beer can has evolved
By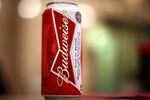 For beer lovers, there's nothing quite like the satisfying crack of a cold brew being opened. Other than maybe, that first, icy cold sip.
It's a pleasure that dates back 80 years, when the first can of beer was sold on Jan. 24th, 1935 in Richmond, Virginia. Decades later, cans remain the vessel of choice for beer imbibers. According to the Beer Institute, cans accounted for 54 percent of all beer packaging in 2013.
Brewers began shifting from bottles to cans because it saved them money: Cans were lighter and took up less space than bottles, making it easier for breweries to transport the products. By the middle of the 20th century, more than a quarter of all beer was sold in a can.
The beer can of 80 years ago looks a lot like the can of today, except that cracking open a cold one used to mean reaching for a can opener. Ring-pull can openers weren't devised until 1959, when an engineer, unable to open a can during a picnic, came up with the idea.
The modern craft beer movement has largely snubbed cans, leaving the best offerings in bottle form, but even that seems to be changing. Craft breweries such as Oskar Blues and Sixpoint have chosen cans over bottles, and for good reason: Cans do a better job of preserving beer than glass does. (Glass lets light into the bottle and degrades a beer's flavor.)
Check out the video below to see how beer cans have evolved over the last 80 years.