YouTube Wants to Be a Super Bowl Winner, Too
By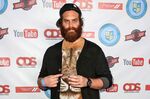 The Super Bowl halftime show has become a showcase for some of music's biggest stars in recent years, from Paul McCartney and the Rolling Stones to Beyoncé, Prince, and Madonna. True to form, this year's broadcast, on Feb. 1 on Comcast's NBC, will feature singer Katy Perry, one of pop music's biggest acts, with an assist by rocker Lenny Kravitz. Yet that star power isn't deterring YouTube from offering its own halftime show online, hosted by Harley Morenstein, the ringleader of food stunt group Epic Meal Time. In 2010, Morenstein and his pals made history when they wowed Web viewers with a 5,210 calorie pizza made of fast-food items (boasting 286 grams of fat). In addition to music, he promises fake Super Bowl ads and stunts such as online celebrities jumping into a vat of cheese.
The show, featuring some of YouTube's biggest stars, is part of a broader initiative to promote ads on the Google-owned site—as well as to exploit America's cult of loving and hating the expensive ads that air during the Super Bowl, the year's most-watched television event. Last year's game, broadcast on Fox, was seen by more than 111.5 million viewers, a record. The YouTube spectacle will stream live on its website during the game. YouTube has long competed for video advertising dollars with Facebook and Twitter, and it will use the halftime show and the ads around it to differentiate itself and demonstrate its value to top brands.
YouTube says the growing profile of its stars like Freddie Wong, whose main channel has more than 7.4 million subscribers, and Toby Turner, whose three channels have drawn more than 3.2 billion video views, will help it compete for attention with NBC's big-ticket talent. More than 60 million people subscribe to the channels of the participating creators, some of whom YouTube has promoted on billboards around the U.S.
"It's a really good place to showcase our celebrities, our talent, and our creators," says Suzie Reider, managing director of brand solutions at Google. "It will be fun afterward to see what was Freddie Wong's draw compared to Katy Perry and Lenny Kravitz."
Reider says the show is designed to appeal to viewers who care more about the ads than the football game. Indeed, in the runup to the Super Bowl, advertisers provide the site with teasers for many of their spots in advance of releasing the full versions after the ads air. People spent 6.3 million hours watching last year's Super Bowl ads on YouTube, according to the company. For the seventh year in a row, the site will host Ad Blitz, a special channel hosting Super Bowl ads where people can vote for their favorites. "YouTube is the place where people go to consume advertisements willingly," says Wong. "It's some capitalist dystopian nightmare."

That's how Wong and the other celebrities plan to have fun: producing fake commercials parodying the style of Super Bowl spots. Wong is best known for the Web series Video Game High School, which began on YouTube and has since appeared on Netflix's streaming service and IAC/InterActiveCorp's Vimeo. One of his creations for the halftime show is a riff on advertisements for sugary drinks popular in the 1990s like Capri Sun and Sunny Delight. The spot begins with kids hanging out and "being rad," according to Wong, and then transitions to a far darker, effects-laden conclusion.
 Reider says the interest in advertising and the large, passionate fan bases for celebrities such as Wong and Morenstein will draw viewers before, during, and after the Super Bowl. Even if people don't tune into the live stream, they can come back to the site to watch the show and the ads—both fake and real—for weeks on end. "The halftime show falls in nicely with this huge theme for us, which is the notion of brands as creators and the commercial as content," Reider says.
The bottom line: Last year, YouTube had 379 million views of Super Bowl ads. It wants its 2015 halftime show to grab even more attention.
Before it's here, it's on the Bloomberg Terminal.
LEARN MORE