Why Target Is Raking Up Its Maple Leaves
By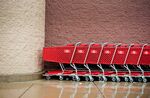 In late December, just four months after taking the helm of America's third-largest mass merchant, Brian Cornell decided to take a road trip of sorts. He set off on a weeklong journey across Canada to get a firsthand look at Target's troubled stores there. He traveled alone—no PR handlers, no other executives, according to a company spokesperson. The still-new chief executive officer was searching for the unvarnished truth about a division that had lost $2 billion since its creation in 2011 and helped end predecessor Gregg Steinhafel's 35-year career at the chain. The unit was the Minneapolis-based discounter's first international expansion, employed 17,000 people, and was a crucial component of its growth strategy.
What Cornell saw during his sojourn sealed Target Canada's fate. The stores were empty, though it was just before Christmas. A few weeks later, with lackluster sales numbers backing up what he'd witnessed, Cornell, who also serves as chairman, told the board that Target should pack its bags and head home. They agreed, and on the next day, Jan. 15, the chain announced it would liquidate its 133 stores in Canada—resulting in a $5.4 billion writedown—and predicted it will cost as much as $600 million to dissolve the business. "Obviously a very tough, a very difficult decision," Cornell said that day in a conference call with analysts. "But we absolutely believe it's the right decision."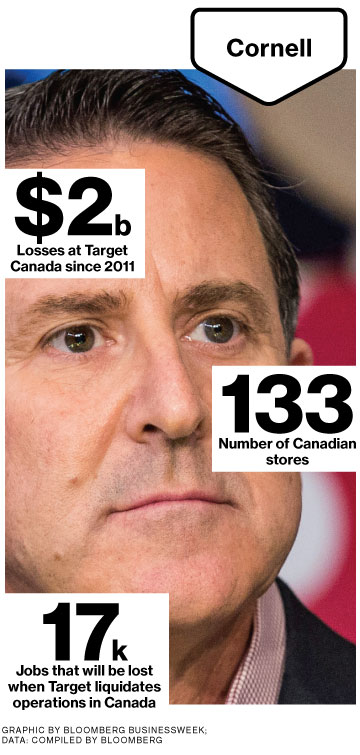 Cornell's boldness surprised many, but it shouldn't have. Shaking up this massive company of 360,000 employees, $73 billion in annual sales, and 1,900 stores is the mandate the board gave him when it chose him last summer to become the first outsider to lead the 52-year-old retailer.
Target has lost its way, and exiting Canada is probably just the beginning of big changes under Cornell, says Burt Flickinger, a longtime Target shareholder and managing director at retail consultant Strategic Resource Group. He expects Cornell to reshuffle management, revamp the grocery business Target uses to woo weekly shoppers, and tweak the chain's REDcard charge card program that offers a 5 percent discount on purchases but has hurt the chain's margins. Those initiatives and the Canadian expansion had formed the pillars of Steinhafel's growth strategy.
"Everywhere he's been in his career, he [Cornell] took over businesses that were either struggling or OK and really made them very good to great," Flickinger says. "He'll be transformational."
By the time Cornell joined Target, he'd been a top executive at Wal-Mart Stores and PepsiCo and CEO of crafts chain Michaels Stores, giving him valuable experience on both sides of the often contentious relationship between retailers and suppliers. Known as a hands-on operator, he won fans early at Target headquarters by being more accessible to employees than Steinhafel.
But it will take a lot more than a Mr. Congeniality sash to fix Target. While a hacker attack before Christmas in 2013 damaged the company's reputation and sales, its ills go much deeper. Although still highly profitable—the retailer earned $1 billion on sales of $52.2 billion in the nine months ended on Nov. 1, 2014—its growth prospects are getting harder to see, especially with expansion in Canada off the table.
Target became a behemoth doing one thing really well: filling America's suburbs with 130,000-square-foot stores. With most suburbs already home to its big-box outlets, expanding within cities—home to the low-income shoppers and young professionals who are prime customers for it—might have made sense for the trendy discounter. But the retailer only recently began testing a smaller concept for urban expansion. The so-called CityTarget store was unveiled in 2012, yet analysts say the layout is still too big, with an average size of 100,000 square feet. Only eight have opened so far.
The company also has a new format about one-fifth that size, a convenience store-like setup dubbed TargetExpress, in a trial near the University of Minnesota campus in Minneapolis, and plans to open a total of five more locations this year in the San Francisco area, San Diego, and Highland Park, Minn.
With its international expansion ending, Target will need growth to come from generating more revenue at existing U.S. stores and increasing sales online. That's the hand that almost every established American retailer is playing. The difference between those that are thriving like Home Depot and others limping along, such as RadioShack, boils down to execution and money.
Operations have never been Target's strength, and there are even more doubts about those abilities after its drubbing north of the border. The company has admitted it botched management of its supply chain in Canada, which led to often empty shelves. Marketing, long considered the retailer's forte, focused too much on conveying the sheen and trendiness of the Target brand to the detriment of explaining the kinds of products and deals it offered, says former Target Canada media executive Kevin O'Rourke. That pushed expectations sky-high among Canadian shoppers. They then plummeted when the stores opened, O'Rourke says, because "it wasn't what they were promised."
Remaking Canada would have taken oodles of investment, which is why Cornell chose to stop pouring cash into a Canadian unit that at the earliest wasn't expected to be profitable until 2021. But now that he's shown he can do triage, investors will be eager to see his next act: a viable growth strategy.
The bottom line: Target grew huge by building 130,000-square-foot stores in suburbs. Now it's seeking growth with smaller stores in cities.
Before it's here, it's on the Bloomberg Terminal.
LEARN MORE