Why Chris Christie Should Be Able to Raise $100 Million
His pivot from the RGA chairmanship comes not a moment too soon.
By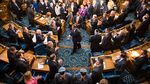 Veteran Republican fundraiser Jack Oliver says it'll take at least $100 million for a presidential hopeful to seriously compete in the party's primary contests. As luck would have it, New Jersey Governor Chris Christie has already shown he can raise that kind of money.