Why Chris Christie Should Be Able to Raise $100 Million
His pivot from the RGA chairmanship comes not a moment too soon.
By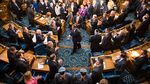 Veteran Republican fundraiser Jack Oliver says it'll take at least $100 million for a presidential hopeful to seriously compete in the party's primary contests. As luck would have it, New Jersey Governor Chris Christie has already shown he can raise that kind of money.
With Christie at the helm, the Republican Governors Association banked $106 million over two years, a record that helped the party win seven new governorships last November. With Wednesday's swearing-in of Maryland Governor Larry Hogan, Christie is officially done with his RGA duties. He now turns his attention to his own ambitions, and the challenge of keeping pace with former Florida governor Jeb Bush's goal of raising $100 million over the next three months. 
The pivot comes not a moment too soon. Christie's would-be donors and money-raisers have been itching for him to get going, especially with 2016 hopefuls Jeb Bush and Mitt Romney making overtures to the party's business wing. "All three are competing for slices of the same pie," said Bobbie Kilberg, a Virginia businesswoman and Republican fundraiser with ties to each. 
Christie won't be starting from a dead stop. His work with the RGA made him valuable connections with elite donors and some of the party's top strategists and fundraisers. Phil Cox, the group's executive director during Christie's tenure, is expected to have a role if the governor begins making a presidential push.    
The signs are there that he will. The governor will soon open a political action committee. One of his biggest fans, Home Depot co-founder Ken Langone, will host a Christie donor gathering this month, the Wall Street Journal reported. And Dallas-based Ray Washburne recently stepped down from his position as the Republican party's chief fundraiser to make himself available to Christie.
It's not just money—Christie is pivoting to presidential exploration mode in other ways, too. He announced plans to travel to the United Kingdom in early February to meet business leaders and dignitaries. This weekend, he heads to Iowa to court conservatives in the first state to participate in the presidential nominating process.
And on Tuesday, he mingled with about 90 Northern Virginia tech executives at a meet-and-greet arranged by Kilberg. She said very few people in the room had ever met Christie, and most seemed to leave with a favorable impression of him.
Although that wasn't a fundraiser, these were the kind of people he might like to cultivate as donors. "As I've watched him in other settings, he does very, very well with donors," Kilberg said. "He will be able to raise sufficient money."
Her confidence is shared by many who know Christie. Boston Republican donor Chris Vincze, who raised money for Romney in 2012, told the Washington Times that he plans to support Christie if he runs. Vincze, according to the newspaper, called Christie "one of the most skilled politicians as well as a tremendous fundraiser himself."