White House Chief of Staff: Hillary Clinton 'Would Be a Very Good President'
Denis McDonough praises Hillary Clinton's preparation and experience.
By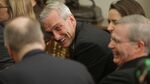 Another prominent Democrat has given Hillary Clinton the thumbs-up for 2016, and this one works at 1600 Pennsylvania Avenue.
"She would be a very good president," White House chief of staff Denis McDonough said at an event hosted by Politico on Thursday.
McDonough, who served on Barack Obama's 2008 presidential campaign when the candidate wrested the presidential nomination from Clinton, praised the former secretary of state's preparation for debates, her defense of American issues abroad, and her "decent and caring" nature.
"Never a time that I saw her did she not ask about my kids," McDonough said. "There's never been an issue or a debate—and we saw this in the campaign as well—that she didn't master the substance of."
McDonough also offered tidbits on life in the White House, telling the audience that after Republican victories in midterm elections, Obama met with staff in the Roosevelt Room to make sure they wouldn't give up.
"I'm a competitive person, and we have an opportunity here to show that our ideas work," the president said, according to McDonough. "We've got to to be urgent about these two years."
McDonough said his time playing safety for the St. John's University football team under coach John Gagliardi helped him enforce Obama's rule that staffers challenge each other on their assumptions.
Gagliardi, McDonough said, had a "no team table" rule in the cafeteria that prompted him to literally bring in a bigger table for meetings with more staff. Gagliardi "made sure we were at the full table, and that's what we do at our office."