What Changed About the House GOP's Abortion Ban Debate
The last time the GOP voted on a 20-week abortion ban, Kermit Gosnell has just been convicted of infanticide.
By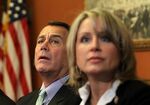 On Wednesday night, a day before the 42nd anniversary of the Roe v. Wade decision and the anti-abortion March for Life, House Republicans decided not to vote on the same 20-week abortion ban that easily passed in the chamber in June 2013. While the bill hasn't changed, the political environment has. Now, Republicans are worried about alienating women and millennials. In 2013, a month after abortionist Kermit Gosnell was convicted of killing three babies, House leadership wanted to act.