U.S. Soccer Suspends Hope Solo for Training Camp Incident
Rob Gloster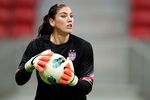 Goalkeeper Hope Solo was suspended for 30 days from the U.S. women's national soccer team after an incident that occurred during the squad's current training camp, U.S. Soccer said yesterday in a news release.
The release did not give details of the incident during the training camp at Carson, California.
The New York Times reported that Solo argued with police when her husband, former National Football League player Jerramy Stevens, was arrested Jan. 19 for driving under the influence in nearby Manhattan Beach. The Times said Solo was in the car, but was not arrested.
Solo, 33, will miss the U.S. team's matches in France on Feb. 8 and England five days later.
"During our current national team camp, Hope made a poor decision that has resulted in a negative impact on U.S. Soccer and her teammates,' head coach Jill Ellis said in the release. ''We feel at this time it is best for her to step away from the team.''
The Times said the suspension was not related to Solo being charged with two counts of misdemeanor assault in Kirkland, Washington, after a confrontation with relatives last June. A judge last week dismissed those charges, the newspaper reported.
Before it's here, it's on the Bloomberg Terminal.
LEARN MORE