The Best Hand Lotions to Keep at Your Desk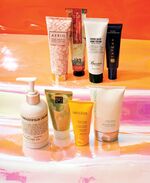 1. Aerin Rose hand and body cream
$40; aerin.com
Created by the granddaughter of Estée Lauder, this cream is smooth and almost perfumelike. Rub on the neck and hands for an afternoon boost.
2. Royal Apothic Hothouse peonie hand creme
$22; royalapothic.com
This thick salve, in a vintage metal tube, comes in more than a dozen garden-inspired scents. The peonie, sweet but not too floral, is subtle.
3. Baxter of California Hydro salve hand cream
$16; baxterofcalifornia.com
Technically designed for men, it repairs roughness and very dry skin with the aid of vitamins E, C, and B5, plus shea butter.
4. Tatcha Indigo soothing silk hand cream
$38; tatcha.com
Indigo plant makes the paste purple; the ingredient also works as an anti-inflammatory to heal dermatitis, eczema, and redness.
5. Prospector Lavandula angustifolia hand cream
$20; prospectorco.com
Organic aloe and olive oil make this ideal for sensitive skin. The pump is surprisingly handy when you're multitasking.
6. Rituals Ginkgo's Secret caring hand balm
$15; rituals.com
The heaviest of the bunch, so apply it at night to help your skin remoisturize as you sleep. In the daytime, it's a little greasy but not terrible.
7. Decléor hand cream
$18; decleorusa.com
A lightweight French staple in a small 4-inch tube, it's great for tucking in a handbag and applying once you come in from the cold.
8. Moroccanoil Fleur d'Oranger hand cream
$20; morrocanoil.com
This invigorating, argan oil-based lotion smells as if you rubbed an orange peel over your hands—so use it in the morning to wake up.
Before it's here, it's on the Bloomberg Terminal.
LEARN MORE