Steyer Won't Run for Senate
Democratic donor's decision likely opens the door for the state's attorney general, Kamala Harris.
By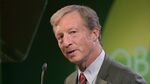 Tom Steyer, a San Francisco billionaire and a heavy-hitting Democratic donor, has decided not to run for a U.S. Senate seat, saying he'd rather focus on electing a Democratic president and working on climate change and other issues from his home state of California.
Steyer, a 57-year-old former hedge fund manager, had been publicly weighing a bid since Senator Barbara Boxer said earlier this year that she would be retiring at the end of her term. Steyer's decision–which he announced Thursday in an essay for the Huffington Post–leaves a clearer path for Kamala Harris, the state's attorney general. Harris has picked up support from progressive corners including Massachusetts Senator Elizabeth Warren. 
"My decision about whether to engage from the outside or seek elected office came down to a single question: How best can I fight for a level playing field at this point?" he wrote. "This was a very hard decision. The U.S. Senate offers a unique opportunity to serve, but I also know that we will have excellent candidates. I applaud and respect those running, and am confident that Californians will choose a representative who will serve them well."
Steyer was the top donor in the 2014 elections, investing about $74 million in Democratic candidates and causes. An aide said he'll continue and expand his activities with the environment-focused super-PAC he founded in 2013, NextGen Climate Action Committee.