Rupee's a Winner as Oil Reverses India Deficit: Chart of the Day
Shikhar Balwani and Kartik Goyal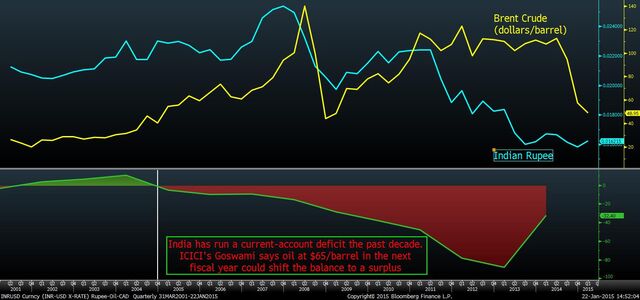 The plunge in energy prices has put India on track for its first current-account surplus in a decade and is forecast to end a four-year losing streak for the rupee.
The CHART OF THE DAY tracks quarterly moves in the rupee and Brent crude since March 2001, with oil prices plunging more than 50 percent since mid-2014. The lower panel shows India last had a current-account surplus in 2004, with subsequent deficits including a record $88.2 billion in the fiscal year ended March 2013. Asia's third-biggest economy imports about three-quarters of the oil it uses.
Morgan Stanley predicts the nation will swing to a current-account surplus of $1.5 billion in the fiscal year starting in April, spurred by the drop in oil prices to 2009 levels and policy makers' efforts to curb gold imports. ICICI Prudential Asset Management Co. echoes that view and expects the rupee to benefit.
"If oil prices average around $65 a barrel in the year ending March 2016, India will see significant savings, with the current account possibly turning into surplus," said Rahul Goswami, chief investment officer for fixed income at ICICI Prudential in Mumbai, which manages 1.37 trillion rupees ($22 billion). "That could have a positive impact on the currency."
The benefits are already trickling in. The trade deficit, a part of the broader current account, narrowed to a 10-month low of $9.43 billion in December as oil imports dropped 29 percent from a year earlier. The rupee has rebounded 2.2 percent this year, making it the best performer in Asia, data compiled by Bloomberg show.
Including interest, the rupee is forecast to deliver a 5.6 percent return in dollar terms in the remainder of 2015, the most in Asia, based on projections compiled by Bloomberg. That compares with 5.2 percent for China's yuan and 5 percent for the Indonesian rupiah.
Before it's here, it's on the Bloomberg Terminal.
LEARN MORE