Obama Won't Meet Netanyahu During Israeli Leader's March Visit
Terry Atlas and Mike Dorning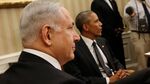 President Barack Obama won't meet with Israeli Prime Minister Benjamin Netanyahu when he visits Washington in March to address a pro-Israel group and speak to Congress because it's too close to the Israeli elections, the White House said.
Netanyahu plans to address Congress on March 3 while in the U.S. capital to speak that week at the annual meeting of the American Israel Public Affairs Committee, the Israeli government said Thursday. Elections in Israel are set for March 17.
The decision not to have Obama meet with Netanyahu keeps with "long-standing practice and principle" to avoid the appearance of influencing elections in other nations, said Bernadette Meehan, a White House spokeswoman.
Netanyahu's trip to Washington, though, already has become embroiled in both U.S. and Israeli politics. It puts him in the middle of a politically charged debate in Congress over imposing additional sanctions on Iran in defiance of Obama's policies. Israeli opposition lawmakers criticized his decision to speak to the U.S. Congress as a political maneuver at the height of an election campaign.
U.S. House Speaker John Boehner, an Ohio Republican, said on Wednesday that he had invited the Israeli prime minister to speak to Congress on Feb. 11, blindsiding the Obama administration and defying diplomatic protocol under which the White House sets up Washington visits by foreign leaders.
Aipac Speech
Boehner said Thursday on his Twitter feed that the speech was moved to March 3 so that Netanyahu could couple it with attendance at the annual Aipac conference, a gathering of pro-Israel activists that he regularly addresses in person or by video link.
The White House said it wasn't consulted on Boehner's invitation and until the new date was set on Thursday, officials said they hadn't discussed an Obama-Netanyahu meeting with the Israeli government.
"We do not see heads of state or candidates in close proximity to their elections, so as to avoid the appearance of influencing a democratic election in a foreign country," Meehan said in an e-mail.
Cameron's View
The election-timing issue wasn't an obstacle to Obama's meeting last week with U.K. Prime Minister David Cameron, who is facing general elections in May. At a White House press conference with Obama, Cameron urged Congress not pass new Iran sanctions now, a view he said he expressed in calls to some key lawmakers during his visit.
Aaron David Miller, who served as a Middle East negotiator in Democratic and Republican administrations, said the controversy is extraordinary but probably will have little consequence.
The White House explanation for not meeting with Netanyahu probably won't be persuasive with pro-Israel constituencies, where critical views of Obama are well-established, he said.
On the other side, Boehner's invitation was "a clear effort to introduce into an already volatile diplomatic debate a third rail," said Miller, vice president at the Woodrow Wilson International Center for Scholars in Washington.
"I've been around the block a while and I don't remember anything quite like this," Miller said. "A lot of it is soap opera, theater and drama."
Israeli Election
The congressional address and Aipac speech give Netanyahu a high-profile U.S. stage days ahead of an Israeli election in which his publicly strained relationship with Obama has been an issue.
Israeli lawmaker Nachman Shai of the opposition Labor Party said Thursday on Israel Radio that Israel's Ambassador to the U.S. Ron Dermer led the process that produced the Boehner invitation, and that Netanyahu was "trampling on the framework of our relations with the U.S." for domestic political gain.
Asked if political considerations played a role in Netanyahu's decision to accept the invitation, an Israeli official said that, at a moment when Iran talks are at a critical point, an Israeli prime minister can't pass up the chance to share Israel's concerns with U.S. policy makers and public. The official spoke on the condition of anonymity because of the sensitivity of the situation.
Sanctions Bill
The delay in the date is a setback for U.S. lawmakers who anticipated that Netanyahu's address would speed passage of new Iran sanctions that would take effect if there isn't a nuclear deal by the end of June.
Netanyahu has been publicly skeptical that Iran will yield to international pressure to give up what he says is Iran's effort to produce nuclear weapons, and Aipac has backed legislation to expand sanctions.
The Senate Banking Committee has scheduled a vote Jan. 29 on a sanctions bill by Republican Mark Kirk of Illinois and Democrat Robert Menendez of New Jersey. Obama has pledged to veto any such measure, in a test of wills with Republicans who now control both chambers of Congress.
In a statement released by his office Thursday, Netanyahu didn't mention the U.S. dispute.
"I look forward to being able to share with the joint session Israel's vision for working together to address these threats and to reiterate Israel's commitment to the bond that unites our two democracies," Netanyahu said.
The speech will "provide an opportunity for the prime minister to thank President Obama, the U.S. Congress and the American people for their support of Israel," the Israeli leader said.