Mexican Meth-Bearing Drone Crashes in Tijuana Parking Lot
Patricia Laya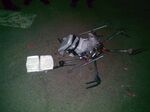 Drug traffickers are joining Amazon.com Inc. in testing deliveries by drones.
A drone, or unmanned aircraft, carrying about 3 kilograms (6.6 pounds) of crystal methamphetamine was recovered by police in Tijuana, Mexico, earlier this week after the aircraft dropped from the sky. Authorities said the device probably fell due to extra weight.
The drone was found by civilians in a supermarket parking lot 10 city blocks, or about 1,000 yards, from the U.S. border, local police said in a statement. The drone's intended destination is unknown.
Drug traffickers are using drones and potato-launchers to transport their goods across the Mexico-U.S. border without using couriers, known as mules, according to the statement. Drug-related violence in Mexico has left more than 70,000 dead since 2006, according to a count by Mexico City-based newspaper Milenio.
Sales of drones have exploded over the past months, with Amazon selling more than 10,000 drones a month, prompting safety and operational fears in the U.S.
Amazon, which unveiled plans to use drones in 2013, has begun testing deliveries by drones as it wants to deliver light packages to customers in 30 minutes or less.
Before it's here, it's on the Bloomberg Terminal.
LEARN MORE