McDonald's Is Being Sued Over a 'Racist' Franchise
Ex-workers at a McDonald's say the corporation should be held responsible
by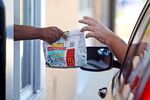 Ten former workers are suing McDonald's, alleging rampant racism, sexual harassment, and illegal terminations at one location, in a case that will test the company's legal responsibility for decisions of its legions of franchisees.
In a Civil Rights Act lawsuit filed Thursday morning in federal court, ex-workers of McDonald's franchisee Soweva Co. in Virginia say a supervisor called black employees "bitch," "ratchet," and "ghetto." She allegedly removed her false teeth and suggested having oral sex with employees. Another supervisor called a Hispanic employee "dirty Mexican" and "hot Mexican," sent employees pictures of his genitals, and inappropriately touched workers, according to the lawsuit.
Supervisors ultimately terminated black and Hispanic employees because they didn't "fit the profile," the lawsuit says. When the workers reached out to head office, "McDonald's Corporate ... did nothing." The lawsuit says McDonald's "is liable as Plaintiffs' employer" which "acquiesced in and ratified Soweva's conduct." 
In a statement Thursday morning, McDonald's said it hadn't yet seen the lawsuit, but would "review the matter carefully." A spokesperson added that the company "has a long-standing history of embracing the diversity of employees, independent franchisees, customers and suppliers, and discrimination is completely inconsistent with our values." Soweva has not responded to a request for comment.
The lawsuit, backed by the local NAACP, comes after a series of strikes against the fast-food industry's top employers over the past two years. Spearheaded by the Service Employees International Union, the fast-food campaign has also supplemented workplace actions with media and legal attacks on fast-food giants' brands, growth ambitions, and business models. This has included allegations of widespread wage theft and criticism of McDonald's out-of-touch financial advice to workers, including a sample budget that left out paying for heat and a guide on how to tip au pairs and pool cleaners.
The campaign has also targeted the franchise business model in which McDonald's considers most workers ringing up burgers and fries as employees of the franchisee instead of the company. Last summer, the National Labor Relations Board's top prosecutor said the agency would treat McDonald's as a "joint employer" of workers when investigating labor law violations at franchises.
The latest lawsuit contends McDonald's had intimate and intense control over workers at the Virginia franchise that showed they were employees of the fast-food giant. These include monthly visits from "mystery shoppers," undercover company representatives who "grade restaurants on their compliance with the McDonald's System, including the details of employees' performance such as their tone of voice and eye contact with customers, facial expressions, exact words used, and assembly of food items." 
Update 11:17 a.m., Jan. 22: The story has been updated to include comment from McDonald's.
Before it's here, it's on the Bloomberg Terminal.
LEARN MORE