M&A News: Shake Shack, Citic, Blackstone, SpaceX, Classic Car Auctions
By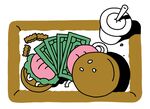 $568m: Shake Shack prepares a juicy offering. The burger joint said in a regulatory filing that it expects to price shares at $14 to $16 in its initial public offering. Selling a planned 5 million shares at $16 would raise $80 million for the chain—which started as a hot-dog cart and now has 63 restaurants—and give it a market value of $568 million. Shares of all five restaurant companies that went public last year have gained since their debuts.
$10.4b: Citic sells a 20 percent stake. The deal gives shares in the Chinese state-owned financial company to Charoen Pokphand Group of Thailand and Itochu of Japan.
$1.7b: Blackstone bulks up on U.S. apartments. The private equity firm, already the largest owner of U.S. single-family homes, acquired 36 properties from Praedium Group.
$1b: Google and Fidelity Investments back SpaceX. The rocket maker, valued at about $10 billion, is trying to deliver Internet access via satellite.
$293m: Classic car sales clear the lot. The combined take from six auctions in the Scottsdale-Phoenix area set a record for the annual event, rising 18 percent from last year's total.
$210m: Washington Nationals land an ace. After pitcher Max Scherzer signed a seven-year deal, odds makers made the Nationals favorites to win the World Series.
$52m: Chinese billionaire gets in the Spanish soccer game. Wang Jianlin, a real estate tycoon who is China's second richest man, bought 20 percent of Atletico Madrid. 
$30m: Twitter buys a startup in India. Via phone calls and text messages, ZipDial pushes content to consumers who don't have mobile data plans.
Before it's here, it's on the Bloomberg Terminal.
LEARN MORE