Israeli Opposition Slams Planned Netanyahu Speech to Congress
Calev Ben-David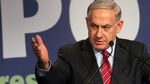 Israeli opposition lawmakers criticized Prime Minister Benjamin Netanyahu's plan to address a joint session of the U.S. Congress on March 3, calling it a blatant political move at the height of Israel's general election campaign.
U.S. House Speaker John Boehner said Wednesday he didn't consult with President Barack Obama before inviting Netanyahu to address lawmakers. White House spokesman Josh Earnest said Boehner's invitation "seems to be a departure" from usual diplomatic protocol, and a State Department spokeswoman called the episode "bizarre."
Netanyahu and Obama have been at loggerheads over peacemaking with the Palestinians and containing Iran's nuclear program. The Israeli leader has found support for his positions from the Republican-controlled Congress, including his call to strengthen diplomatic and economic sanctions against Iran.
Netanyahu "is attempting to infiltrate enemy territory" in Washington by using Congress to bypass the White House, Israeli lawmaker Nachman Shai of the opposition Labor Party said Thursday on Israel Radio. Shai said that Israel's Ambassador to Washington Ron Dermer led the process that produced the invitation, and that Netanyahu was "trampling on the framework of our relations with the U.S." for domestic political gain ahead of a general election scheduled for March 17.
Date Changed
Boehner said Thursday on his Twitter feed that the speech was moved from Feb. 11 to March 3 so that Netanyahu could attend the annual conference of the American Israel Public Affairs Committee that week in Washington.
The change of date may ease some of the tensions in Washington over Netanyahu and Boehner planning the appearance while leaving the Obama White House out of the initial discussions. State Department spokeswoman Jen Psaki said on CNN on Wednesday that "it was a bit of an episode of the bizarre today seeing all of this unfold."
Netanyahu has regularly addressed the American Israel Public Affairs Committee, the largest pro-Israel lobbying group in the U.S., either in person or by video link.
In a statement from his press office, Netanyahu said he was honored to accept Boehner's invitation, "which reflects the special friendship shared by Israel and the United States as well as the strong bipartisan support for Israel across America. Just last week I discussed with President Obama the common challenges we face from Islamist extremism, including resurgent terrorism and Iran's pursuit of nuclear weapons."
Obama Meeting
"I look forward to being able to share with the joint session Israel's vision for working together to address these threats and to reiterate Israel's commitment to the bond that unites our two democracies," he said.
A possible meeting between Netanyahu and Obama during the prime minister's visit to Washington is being looked into, according to an Israeli official who wasn't authorized to speak on the record.
In Israel, scheduling the speech in March may add to a debate over domestic politics by moving it closer to the elections.
The opposition Meretz Party said it would file a complaint with the Central Elections Committee demanding that it prohibit Israeli television and radio stations from broadcasting Netanyahu's congressional address. "This is a blatant violation of campaign laws," Meretz spokeswoman Aya Mizrachi said by phone.
Sanctions Legislation
Boehner's announcement of his invitation to Netanyahu came hours after Obama said in his annual State of the Union address that he would veto any bill that increases sanctions on Iran. Obama said such legislation could threaten progress in international talks aimed at curbing the Islamic Republic's nuclear ambitions. Netanyahu has called for more penalties on Iran, saying its nuclear program is designed to make weapons that pose an existential threat to Israel.
"The invitation to speak in Congress, including the date set, was an American initiative," Ofer Akunis, a deputy minister in the prime minister's office and close political ally of Netanyahu, told Israel Radio. "It's the prime minister's right to stand by his positions -- as it is of President Obama - - and we think differently about how to deal with Iran."
The speech will be Netanyahu's third address to a joint session of Congress, following previous appearances in July 1996 and May 2011.