In the Asian Arms Race, the Prize Is India
By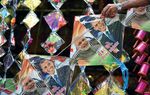 Barack Obama will be the guest of honor at India's Republic Day parade on Jan. 26. The celebrations will feature child acrobats, marching bands, and colorful floats representing India's states and territories. Also on display will be the country's military hardware, much of which dates from the Soviet era. One of the topics of discussion when Obama meets with Prime Minister Narendra Modi will be how to upgrade India's defense capabilities.
India, the world's largest importer of weapons and defense systems, spent $5.6 billion in 2013, according to the Stockholm International Peace Research Institute. Modi wants to spend more: Since taking power in May, he's signed off on $20 billion in arms procurement proposals, about double the amount spent in the prior fiscal year. Harsh Pant, a professor at the India Institute of King's College London, estimates the costs of modernizing India's weaponry will run to $130 billion over the next seven years. "A lot of Western arms exporters would be interested in that," he says.
The U.S. displaced Russia as India's top supplier of armaments in 2013—a major coup, considering that just four years earlier sales by American defense contractors to the country amounted to only $237 million. The Modi administration's shopping list includes everything from heavy guns to submarines. Boeing is close to winning a $2.5 billion order for 22 Apache helicopters and 15 Chinook heavy-lift transport aircraft. During Obama's visit, the two countries are expected to discuss plans to develop and produce weapons. "It will be more than a buyer-seller relationship," says Tanvi Madan, an India specialist at the Brookings Institution.

India is counting on improved defense ties with the U.S. to help neutralize the threat from its northern neighbor. The People's Liberation Army is in the midst of a substantial upgrade: Last March, China announced a more than 12 percent increase in the military budget for 2014, to almost $132 billion. The countries dispute their borders in the Himalayas and Kashmir. The Chinese are also longtime suppliers of weaponry to India's bitter rival, Pakistan. "We face a coordinated China-Pakistan axis," says retired Indian diplomat Gopalaswami Parthasarathy. (The U.S. also provides military aid and equipment to Pakistan, to support counterterrorism activities.)
American administrations spent the last decade rebuilding ties with India, with an eye to creating a military counterweight in the region. Those efforts may get a boost from Obama's nomination of Ashton Carter for secretary of defense. As No. 2 at the Pentagon from 2011 to 2013, Carter helped oversee a program to increase technology transfers to India.
Imports account for more than two-thirds of India's military purchases, by some estimates. That dependence leaves the country vulnerable in negotiations with foreign contractors, according to Bharat Karnad, a research professor at the Centre for Policy Research in New Delhi. "We are the foolish rich guy easily separated from his money," he says.
India doesn't have a strong record in designing and building its own sophisticated weaponry. On Jan. 17 the government held a ceremony in Bangalore to celebrate the completion of the Tejas light fighter aircraft, a project that had been in the works since 1983. The Defence Research and Development Organization, a government-run agency with a near-monopoly on military research, is "more notable for its self-promotion than the production of weapons," according to a report from Brookings analysts Stephen Cohen and Michael O'Hanlon.
Modi sees increased military spending as a way to help jump-start his "Make in India" campaign. To help Indian defense contractors become more competitive, the government has eased limits on foreign investment in the local arms industry. It's also leaning on foreign suppliers to share some of their valuable know-how with Indian firms. Dassault Aviation won a 2007 competition to supply the Indian air force with 126 Rafale fighter jets, but wrangling over whether the French company will guarantee timely delivery of the 108 planes to be assembled locally by state-owned Hindustan Aeronautics has delayed the contract's award.
Expect the jousting for market share to continue. Russian Defense Minister Sergei Shoigu traveled to New Delhi on Jan. 21 to meet with representatives from the country's Defence Ministry. The next day the Indians were due to host Frank Kendall, the U.S. under secretary of defense for acquisition, who'd been dispatched to the Indian capital to go over agenda items in preparation for Obama's meeting.
The bottom line: Foreign contractors are eyeing the sharp increase in India's military spending under the Modi administration.
Before it's here, it's on the Bloomberg Terminal.
LEARN MORE