Hyundai Motor Profit Misses Analyst Estimates
Rose Kim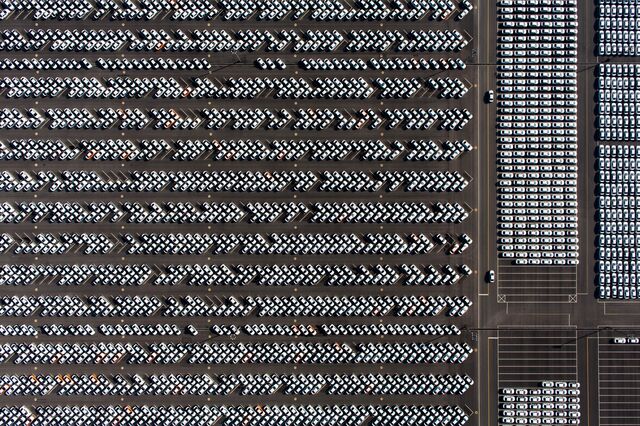 Hyundai Motor Co. reported profit that missed analyst estimates after the yen and Russia's ruble weakened, eroding overseas earnings at South Korea's largest carmaker. The company's shares fell.
Net income declined 19 percent to 1.66 trillion won ($1.5 billion) in the fourth quarter from 2.06 trillion won a year earlier, the Seoul-based company said in a statement today. That was less than the 2.01 trillion won average of 26 analyst estimates compiled by Bloomberg.
A weaker yen gave Hyundai's Japanese rivals including Toyota Motor Corp. a competitive edge overseas, while a plunge in the ruble lowered the value of earnings in Russia. To reassure investors, the company will increase its annual dividend by 54 percent and consider paying out an interim dividend this year, Chief Financial Officer Lee Won Hee said on a conference call.
"Hyundai's decision to increase the dividend payout is a step in the right direction and is meaningful in that it restores investors' expectations," said Heo Pil Seok, chief executive officer of Midas International Asset Management Ltd., which oversees about $9.7 billion. "It will be a difficult year for Hyundai in terms of profit or volume sales growth, so having a more shareholder-friendly approach will be helpful."
Hyundai fell 2 percent to 168,000 won at the close in Seoul trading, after dropping as much as 4.1 percent following the earnings report. South Korea's benchmark Kospi index was little changed.
Operating Profit
Fourth-quarter operating profit, or sales minus the costs of goods sold and administrative expenses, fell 7.6 percent to 1.88 trillion won. That compares with the 1.99 trillion won average of analyst estimates.
Full-year net income dropped 14 percent, the most since 2008, while sales increased 2.2 percent.
Hyundai's shares plunged 29 percent last year after the company said in September it had won an auction, along with affiliates Kia Motors Corp. and Hyundai Mobis Co., for a property in South Korea's central Gangnam district. Hyundai's winning bid of 10.6 trillion won was triple the assessed price for the property, which the company is targeting for a development that will include its new headquarters.
To ease investor discontent, Hyundai and Kia said in November they plan to spend 670 billion won to buy back stock by Feb. 11 this year. Hyundai's Lee said today the company will raise its dividend to match the average of global automakers.
Won's Appreciation
"This increase will not be a one-time deal -- the company will continue to increase the dividend payout," Lee said. "The company will maximize shareholder value through continuous growth and fast profits."
The won appreciated 5.7 percent against the yen in the fourth quarter, according to data compiled by Bloomberg. The ruble's 33 percent slump against the South Korean currency reduced the value of repatriated earnings from Russia, where Hyundai produced and sold 237,000 vehicles last year, according to company data.
"We expect the uncertainties about currencies in emerging countries, including Russia, to continue in 2015," Lee said.
Hyundai said Jan. 2 it plans to increase global sales by 1.7 percent, the slowest growth since 2006, to 5.05 million vehicles this year.
China Sales
"The restriction comes from the lack of new plants opening or new lines beginning production this year," said Lee Sang Hyun, an analyst at IBK Investment & Securities Co.
Hyundai and Chinese partner BAIC Motor Corp. will expand production in China by 57 percent by adding two plants with annual output capacity of 300,000 vehicles each in Chongqing city and Cangzhou, Hebei province, they said Dec. 30. Hyundai plans to begin production at the new plants in 2016.
The carmaker's sales in China rose 8.4 percent last year, trailing the industry average of 9.9 percent, according to data from Hyundai and the China Association of Automobile Manufacturers. In the U.S., Hyundai sold a record 725,718 vehicles in 2014, although its market share fell to 4.4 percent from 4.6 percent in 2013.
Before it's here, it's on the Bloomberg Terminal.
LEARN MORE