Four Parisian Menswear Brands You Probably Don't Know But Should
By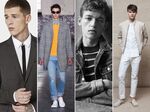 It's hard to get noticed in the French market when established designers like Saint Laurent, Dior, and Louis Vuitton are forever crowding the pool. That is, unless you're one of the following four brands, which have not only managed to suit up with the stars but also make a big enough splash to be noticed—at least by those who make it their job to know (i.e. us!).
So in honor of the menswear shows of Paris Fashion Week currently underway, we urge you to make note of these up-and-comers, too. By our measure it won't be long before these guys are as big in America as they are back home.
Sandro

Sandro might be the clothes equivalent of getting a pied-à-terre on the Rue Saint-Honoré for when you just need that weekend away. They're best known for their fit, the French fit, the fit that will have you feeling and looking like you just walked out of some fancy café on Champs-Élysées—in other words, slim silhouettes with just enough edge. The Parisian brand has been around since 1984,  branched out into menswear in 2008, and will present for the first time tomorrow during the Fall/Winter 2015 menswear shows.
Style: Slightly edgy minimalism
AMI

Paris is known to have some of the most dramatic, over-the-top fashion—the kind that should stay on the runaway. Not when it comes to Alexandre Mattiussi's AMI, which nails the No.1 most important element of style for men worldwide: wearability. AMI is basically the effortlessly cool kid that lived next door when you were growing up, the one you may not have known anything about him, but damn did you want to be his friend. Now you can say hello.
Style: Modern prep
The Kooples

Although The Kooples sounds more like a funk revival band than a clothing designer, that's actually not a bad assumption: I like to think of them as rebel fashion, with just the right amount of rock 'n' roll in the mix. The 7-year-old brand entered the U.S. market in 2012 with spots in stores like Saks Fifth Avenue and Bloomingdales and opened a Meatpacking District flagship in NYC this past September. They're a name you won't forget anytime soon—and shouldn't.
Style: Buttoned-up rockabilly 
Officine Generale

This brand may only be 3-years-old, but is readily keeping up with the big boy, showing up in over 90 retailers around the world, 20 of which reside in the U.S., including department stores like Barney's and online retailer Mr. Porter. Officine Generale's new collection is set to debut this Sunday, and we are expecting nothing less than exceptional garments with just the right amount of rugged, almost militaristic attitude. 
Style: Classical tailoring, on-leave
Before it's here, it's on the Bloomberg Terminal.
LEARN MORE